Legal Week: Borno State Chief Judge Tasks Members Of The Bar To Embrace E-legal Services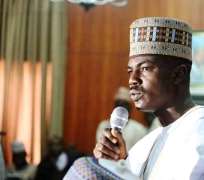 The Borno state Chief Judge, Justice Kashim Zannah has tasked members of the Bar in the state to embrace the new Nigerian Legal Email service platform for speedy justice delivery in Nigeria.
The Borno state Chief Judge, Justice Kashim Zannah who made the call at a valedictory session of the state legal week held at the High Court complex, Maiduguri on Monday said "the official Nigerian Legal Email Service would be the platform of communication between lawyers and the Court".
"I wish to draw the attention of the Bar to the announcement recently made by the Chief Justice of Nigeria, that the Supreme court would in July this year stop manual service of notices and court process", Justice Zannah said.
He said the Borno state will follow the lead of the Supreme Court and therefore, urged all lawyers to acquire their official email accounts, adding that the Nigerian Information Technology Committee is rolling out the Nigerian case management for all High courts, the Courts of Appeals and supreme court site development is commencing in the month of March.
He therefore said "we must improve our justice system to serve our people. I urge all stakeholders to adopt, support and sustain this effort. We must not cling to our comfort zone. Paper and manual process hinder speed, efficiency and transparency".
He further stressed that as peace is returning to Borno state, it is their duty to build this peace on a concrete foundation, so that it will not collapse, adding that the best foundation of lasting peace is justice and doing justice was what the society charges them to do.
He also called on the members of the Bar and Bench to eschew corruption, as through fighting corruption that the seeds of Justice will germinate, take root and grow, pointing out that rule of law plus corruption is not a rule of law but a rule of the law of corruption.
Eelier in his speech, the Borno state Attorney General and commissioner for Justice, Barrister Kakashehu Lawan said to ensure justice and constitution of civil authories in the state, the state government has embarked on the construction and rebuilding of all courts destroyed by the Boko Haram insurgents and rebuilding of others across the state .
While commending two retired Judges of the state High courts, Barrister Lawan called on all members of the Bar and the Bench in the state to emulate them and thanked them for a successful legal year end in 2017.
While expressing the cordial relationship between the Bar, Bench and the state government, he called on all stakeholders in the justice system to rededicate their efforts in ensuring speedy justice and decongestion of the prisons.