MEMORIES OF KERUBU: The Splendour Of Nostalgia (2)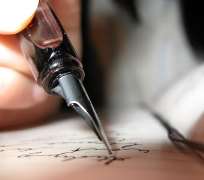 A very handsome man. Light in complexion. He was a man of average height, about 5'8 or 5'9 approximately. His physiognomy, for his age then, could be characterized as "athletic." He had a walking style that was unique. His stepping, arithmetically paced, was unassumingly majestic. Even, when he was fast paced, it only exaggerated the beauty of his unique walking style. Always bright looking. Always smiling. Always friendly. And always firm.
Mr. Olanipekun, (I don't remember his first name now), was the Housemaster. He was an exceptionally gifted teacher. His talent, draped in the tapestry of brilliance, strutted into your consciousness, without let or hindrance. His brain could not have been anything other than photographic. His mind, seminally sharp, was extremely vigilant and on the que Vive. His eyes, like a klieg light, with its satellitic instincts, sees everything, especially when honed on a target like a laser guided missile. In fact, with the degree of his mental alertness, I wondered if his health had not been jeopardized in any way, because excessive brilliance, a late Ife Prince once told me, could be injurious in many ways! Mr. Olanipekun was just too much!
He was a teacher that most students loved. He was a teacher that most students respected. He was a teacher that elicited the affection of most students. He was a teacher that most students feared. Students, the victims of his "weird" talents and irksome ingenuity, would occasionally discuss him with a potpourri of feelings of fondness, perplexity and guileless, non-malicious loathsomeness.
He was a mixed grill. Some students likened him to a "ghost." Others actually felt he was an Àkúdàáyá, a Yorùbá word for the spirit of an assumedly dead person operating physiologically, given his phantom operational modalities. He practically knew every student's name by heart. If Mr. Olanipekun saw your back, he would be able to identify you. And he would call your name without any mincing. He was a genius of a kind. Friendly but "deadly", if you know what I mean.
Any student, not properly identified, could escape trouble with any teacher and evade punishment, except if caught red handed. But with Mr. Olanipekun, you had less than two percent out of one hundred percent chance of escaping, if any at all. Apart from knowing everyone's name by heart, it was as if he studied the architectural details of every student's physiognomy. He was always able to identify students in weird and unusual circumstances.
Our dear KERUBU, ensconced in the wings of a richly endowed 48 Acre land, brimmed with fruits of all kinds. From Àgbálùmò, Òrombó, Móngòrò, Ìyeyè, Kashú to Tanjarínnì and Gúáfà. There were also some kolanut trees mingled with cocoa trees. The environment, luxuriant and exuberant in its greenness, was always lavish and luscious in its abundance. It gleamed and glistened across seasons. Its beauty, seductively sequestered, like a body of a woman of easy virtue, longing to be taken, glowed tantalizingly.
Thus, naturally, the beautiful environment baited and beguiled the curiosity of students. It elicited their exploration. It stirred their imagination. It was a magnet for adventurous ones, especially, those that came in from cities and big towns. It unwittingly, provided rendezvous for willing students who sought escape from the rigours of the school obligations. It was simply tempting, alluring and pulsating. It was enchanting, fascinating and mischievously glamorous.
Your humble self, raised in a beautiful village, and fairly familiar with farm environments was not left out of the self - indulgent Kerubic adventures. Not with my addiction to Ìyeyè and Àgbálùmò. And Àgbálùmò, with its uncanny ability to glue your mouth together after you have had so many, a usually compulsory aftermath that deprives your mouth its inalienable right of freedom of movement, if it could write, would have my name in its book of records.
Those inebriating years with my wonderful maternal grandparents, exposed me to the beauty and marvels of nature. The grandeur of nature, I was made to understand and relish. Those years were when I was made to appreciate what nature really is, its rules, its expectations, its usefulness and how it exacts consequences on the foolish and the careless. They were invaluable years. And unarguably, the best years of my life.
The Iyàrà, laying prostrate at the edge of our KERUBU, deep, dark, and dreary in its ominous quietude, was not enticing in any manner. Damp, drab and dismal in its countenance, the dungeon was dingy, doleful and depressive in its dissension. This dungeon, Iyàrà, which according to the attestations of History, was dug by the renowned Ijesa Generalissimo, Ògèdèmgbè Agbógungbórò, to protect Ilesa City from unexpected invasion bordered KERUBU from the Wesley Hospital end. To this extent, it was difficult for any student to play any prank approaching the school via Ìyèmògún road.
The Bolorunduro end, which linked the school to the Boys' and Girls' Hostels, also availed some Day Students the opportunity to feed their curiosity, engage in wrongly timed adventures and try out some pranks, especially when they came late to the school. Students took advantage of the vastness of the beautifully alluring and richly pulsating environment to take "uncharted" routes to the school. But on any day when Mr. Olanipekun was on the prowl, the challenges could be enormously difficult and consequential.
Mr. Olanipekun did not have to sight your whole physiognomy before knowing who you were. And when he called out your name, you knew the game was up. You just must give up. As you walked dejectedly towards him, probably still angry and upset that you're caught, he would smile at you. Disarmingly. Ingratiatingly. And probably, bewitchingly. His alluring smiles, seductively irresistible, would charmingly cocoon his steely determination to ensure you paid a price for your disobedience and indiscipline.
In the course of bringing you to "justice," Mr. Olanipekun, sometimes would pat your back as if commending you for a job well done. He would hold your hand in a most friendly manner as if he was felicitating with you on your birthday. He would chat with you spiritedly as if you were his nephew seeking counseling. He would walk with you stylishly to the "Golgotha" and unceasingly, all the while, all the way, smiled at and with you.
The man, mentor, teacher and disarming disciplinarian, Mr. Olanipekun, was an awesome enigma.
© Remi Oyeyemi