Police discovered, destroyed conglomerate of fraudulent shrines in Osun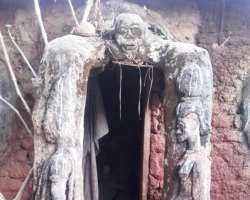 The Osun State Police Command has discovered and destroyed a conglomerate of some shrines at Ilobu in Irepodun local government area of Osun state which some fraudulent individuals are using to defraud unsuspecting people.
The residents of the area said until the armed policemen came, they could not gain access to the den to ascertain what was happening there and that the people of the community fear the operators of the shrine.
The Commissioner of Police in the State, Mr Fimihan Adeoye led the operation to the dreaded shrines where nefarious activities have been taking place for a long time before it was discovered by the police.
The state governor, Mr Rauf Aregbesola gave CP Adeoye and his men a pat on the for the operation and also lauded the police for ensuring safety of lives and properties of the residents of the state.
The ritualist den locates at Molete area in Ilobu was a conglomerate of several shrines with an underground. The police boss said the den was discovered due to crucible intelligence from good citizens.
The den also has a dungeon connecting one of the shrines to another. There were many statues and hundreds of bottles of alcoholic drink at the shrines in the den. Also, three were shallow graves around the building in the den.
According to him, "We acted on a a reliable and credible intelligence which led to the discovery of those conglomerate of fraudulent shrines. We have destroyed the place and we were able to arrest of two brothers of same parent while their kingpin and escaped."
The CP said the everything found at the shrines would be thoroughly investigated. He sought further cooperation of the residents of the area to assist the police with more information that would aid investigation.