10 PDP Executives Pass Vote Of No Confidence On Aniocha PDP LGA Chairman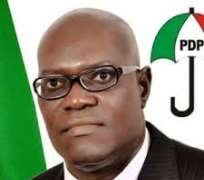 As the political year comes closer, Aniocha North local government area has hit the newsstand again as 10 executive members of the Peoples' Democratic Party (PDP), in Delta State on Thursday passed vote of no confidence on the LGA chairman,Victor Egbune.
For the past few weeks after the local government election which was conducted by the Delta State Independent Electoral Commission (DSIEC), the council area has been under searchlight as crisis has continuously rocked the local government council.
The crisis has been between the local government chairman, Chuks Oseme and members of the lcoal government legislative arm which have been at loggerheads with each other over loyalty to some political godfathers in the council area.
While the battle between the two major bodies in the administration of the local government remains hot, the pendulum has swung to the local government PDP chairman, Egbune, who is currently receiving the baptism of fire from members of his executive.
In a letter conveying vote of no confidence passed on him, 10 out of 14 members of the party executive in the council passed a vote of no confidence on the chairman, Prince Victor Egbune, for alleged incompetence and gross misconduct.
The letter was addressed to the state party chairman, Kingsley Esiso, who is notified that with the vote no confidence vote, Egbune ceases to be the local government chairman of the party.
The memorandum signed by 10 of the 14 executive members and entitled "Vote of no confidence on Prince Victor Egbune, People's Democratic Party (PDP) Chairman Aniocha North Local Government Area" reads:
"We the under listed members of People's Democratic Party Aniocha North Chapter wish to express with dismay our dissatisfaction with the conduct of our party chairman.
"It is our belief that with the enormous task ahead of us, it has become imperative to cleanse the system of any bad element that would cause us failure in our forthcoming elections.
"In the light of the above facts, we the undersigned members of the local government executive hereby unanimously pass a 'VOTE OF NO CONFIDENCE' on PRINCE VICTOR EGBUNE, the local government area chairman for incompetence and misconduct as stated thus: Misappropriation of party funds, Factionalizing the party, Inability to call regular meetings, coordinating an aspirant.
"With this vote of no confidence, Prince Victor Egbune ceases to be our Chairman, we therefore request you sir to authorize the deputy chairman, Mr. Aggrey Abia, to function in acting capacity pending when the chairman is formally replaced.
"We thank you in anticipation of your accelerated response."
Those who signed the "vote of no confidence" against Prince Victor Egbune are:
Hon. Egoh Julius, secretary;
Mrs. Dorothy Udeh, Women Leader;
Mr. Bunor Nwechi, asst. Pub. Sec;
Mr. K.C. Ogbelue, Auditor;
Mr. Nmakwe O.C., Org. Sec.
Patrick Nwaoba, Ex Officio;
Madam Felicia Orakwe, Ex Officio;
Uche Mukolu, Ex Officio;
Evlyn Monye, Ex Officio;
Ejike Ugbechie, Ex Officio.