Army Drills Boreholes in Sambisa Forest for Troops and Communities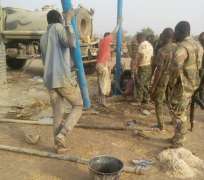 Making good of it's promise of clearing the Boko Haram terrorists and making Sambisa fit for lawful activities, the Nigerian Army was further consolidating on the successes of Operation DEEP PUNCH II by troops of Operation LAFIYA DOLE, through infrastructural developmental.
The Director Army Public Relations, DAPR, Nigerian Army Headquarters Brigadier General Sani Kukrsheka in a statement Friday said apart from road constructions, it was further consolidating it's successes in Sambisa forest through endearments in infrastructural development in the Sambisa forest.
He said the Nigerian Army had also drilled a borehole in Sabil Huda and plans for more in other places in the Sambisa forest to enable troops enjoy water supply from the borehole.
The statement added that apart from the Nigerian Army greatly reducing the logistics effort of conveying water from one point to another by the troops, the water project will also assist the adjoining communities enjoy water supply from the boreholes very soon.