Breach of Protocol: Delta Airlines apologizes to AIB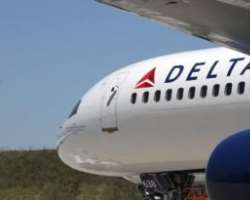 Delta Airlines has apologised to Nigeria's Accident Investigation Bureau (AIB) over what the bureau called, 'breach of protocol' after the emergency landing involving its Airbus 330-200 aircraft on Tuesday night.
The Atlanta bound Delta Flight 55, which departed Lagos Tuesday night returned few minutes later to Murtala Muhammed International Airport when one of the engines caught fire.
219 passengers on board exited through the emergency slides with five of them injured in the process.
However, the airline made arrangement to airlift its passengers by bringing in another aircraft.
Following the incident, the US-airline was said to have sent in its investigators to Nigeria who made attempt to fix the aircraft but the AIB impounded the aircraft and detained its crews from going back to Atlanta until the bureau had been duly notified.
AIB Commissioner/CEO, Engr. Akin Olateru had decried the failure of the Delta Airline crew to inform the AIB in Nigeria being the country of occurrence before taking any action on the grounded aircraft.
But the team of Delta airline officials and technical crew was at the bureau's office in Lagos where Miss. Shannon Masters, Manager, Air Safety Investigation apologized over the oversight which she said was not intentional.
She said, "We sincerely apologize for the error and we promise to cooperate with AIB in the investigation of this occurrence."
The Commissioner while accepting Delta's apology said AIB had already commenced investigation into the serious incident and welcomed the airline's cooperation.
"We look forward to receiving cooperation from Delta Airlines as we work to determine the cause of this serious incident in the interest of safety,"Olateru said.
-Ships&Ports-