Madumere Reiterates Commitment in Youth Development
...Bags Most Accessible Political Office Holder  in Nigeria Award from Youth Parliament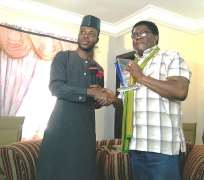 The Deputy Governor of Imo State ,Prince Ezeakonobi Madumere has reiterated his commitment and desire to ensure the development of youths of the State and Nigeria at large, adding that his concern for the youth is borne out of his quest for a better society.
Prince Madumere made the assertion at his country home, Achi-Mbieri in Mbaitoli local government area while receiving an award from Nigeria Youth Parliament as the "most accessible Deputy Governor in Nigeria".
He described the youth as the focrum of every society , pointing out that no society can develop without the power of the youth.
The Deputy Governor of Imo State Prince Eze Madumere receiving an Award of the Most Accessible Public Office Holder in Nigeria in recognition of his open door policy and contribution to youth Development...
He observed that Nigeria Youth Parliament has become a vehicle to champion the interest of the youth, as he advised federal and states governments to create opportunities for the growth and development of the youth.
The number two citizen of the State kicked against emphasis on abroad employment and brain drain, as he solicited a total reorientation of youths on drug abuse, kidnapping, armed robbery and other social vices.
He said the Rescue Mission Government in the State has created avenues for youth empowerment such as the skills acquisition centres in all the three zones in the state, the Youth millionaire programme and others as he advised the youths to avail themselves of these opportunities .
Imo Deputy Governor, Prince Eze Madumere with the Speaker, Nigerian Youth Parliament, Rt. Hon. Ayodele Obe
Thanking them for the honour done him, Madumere stressed that his utmost concern is for the success of the youth, as he pledged to continue in that direction .
Earlier in his remarks, the leader of the group and Speaker of Nigeria Youth Parliament, Ayodele Obe commended the Deputy Governor over his concern towards a concerted investment in youth education and development.
He described the award as unique, explaining that Madumere is the only political office holder to be bestowed with such award by the group.
Ayodele said the award is recognition of Madumere's extreme humility, open door policy and urged him not to relent.
Lending his voice, the coordinator of the group in the south east, Darlington Onwe describes Madumere as a visible and incorruptible leader that has the interest of the youths at heart as he pledged their support and loyalty to him. Present were the Speaker, Nigerian Youth Parliament, Imo State chapter, Hon. Comrade Lilian Onyewuchi and other members.
The Deputy Governor of Imo State Prince Eze Madumere flanked by the leadership of Nigerian Youth Parliament when the group paid him a courtesy visit at his country home, Lake Malinda, Achi-Mbieri Mbaitoli LGA
It will be recalled that the Nigerian Youth Parliament held her national event last week the Deputy Governor was represented by Dr. Edward Ihejirika who delivered Prince Madumere's lecture on investment in youth education and development.
For: Special Assistant to the Deputy Governor of Imo State
Emeka Iwuala