Youths Urge Okowa To Construct Access Roads To Link Okpanam To Other Communities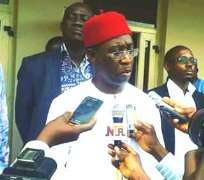 Youths in Okpanam have called on Gov Ifeanyi Okowa of Delta State to consider constructing access roads to link Okpanam to other neighbouring communities of Issele-Azagba and Akwukwu-Igbo in the state.
Mr Friday Okonkwo, President, Okpanam Youths Organization (OYO) made the call on Monday in Okpanam, Oshimili North Local Government Area of the State.
Okonkwo, who commended the governor for the ongoing massive road infrastructure across the state, particularly the Asaba-Okpanam dualization road project, said the governor should also link Okpanam to other neigbouring communities.
He said that it would greatly impact the communities if the access roads from Amachai quarters and that of Ogbe-Ozoma New Layout both in Okpanam were linked to Issele-Azagba, Aniocha North LGA.
Okonkwo said that the construction of the two link roads to Issele-Azagba would provide a by-pass from Asaba to Issele-Azagba to ease traffic along the Benin-Onitsha Expresseway.
He said that the roads would help open the agrarian communities while promoting the socio-economic development of the state capital territory.
"It is good that Gov. Okowa is doing so much to transform the capital city of state, Okpanam as part of the state capital territory is witnessing road construction.
"But I can tell you that the area will witness tremendous growth if the government constructs the link roads from Amachai to Issele-Azagba and that of Ogbe-Ozoma New Layout to Issele-Azagba.
"The roads will not only encourage developers, it will ease traffic from the Benin/Onitsha Expresseway because many people will like to travel leisurely through Amachai/Okpanam to Issele-Azagba, connect Issele-Uku without the risk of passing through the expressway.
"Such road project, I can tell you, will bring about development from Asaba to Issele-Uku and open up the place for investors," he said.
Okonkwo added that at present, "Gov. Ifeanyi Okowa is doing a lot in terms of road construction, Okpanam is home to a lot of civil servants and constructing these roads will ease their movement.
"And with these roads, it will be easier for us to go to Akwukwu-Igbo which is our local government headquarter without passing through another local government area.
"We are appealing to government to help us because the roads are very important to us, it will open up our community and the communities around here".
Okonkwo also thanked Sen. Peter Nwaoboshi, Senator Representing Delta North Senatorial District, adding that he was ensuring good representation for the people and urged him to do more for the people of the area.