Missing policeman in Benue found dead with his eyes, ears, nose missing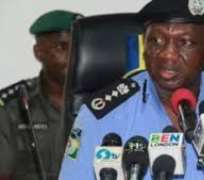 Police have recovered the mutilated body of one of the four police officers declared missing by the Benue State Police Command, after being ambushed by suspected herdsmen at Azege village, Ayilamo in Logo Local Government Area of the state.
The police announced in a statement that the remains of the slain officer were found without his eyes, ears and nose.
Four mobile police officers went missing following an ambush on their patrol vehicle in Logo Local Government Area on Saturday.
The incident occurred in Tse Akpam village, near Azege town around 3:00 p.m. Saturday afternoon while the officers were returning from a peace-building mission in remote villages, Police Commissioner, Fatai Owoseni disclosed. In the ensuing gun battle, one of the Police patrol vans caught fire and four of the Policemen ,who were not seen after the attack were declared missing.
Two of the missing officers were later found alive on Sunday and have since rejoined their colleagues while the search for the remaining two continued. In a statement released yesterday by the Command's Public Relations Officer, Assistant Superintendent, Moses Yamu, the remains of one of the missing Non Commissioned Officer, NCO, has been reportedly found in the area where the attack took place.
The statement read in part: "the Command regrets to announce the death of one of its Non Commissioned Officers, NCO, who was one of the two remaining missing Policemen in the attack on Saturday.
"He was found brutally slaughtered, with eyes and ears as well as nose removed. We pray that God Almighty grants him eternal rest. "However, the Police remains committed to its statutory and daunting obligation of ensuring security as well as protection of life and property of all.
"The search for the remaining missing Police officer is still ongoing." The statement read.