IS leader al-Baghdadi suffering from deteriorating health: Report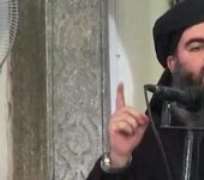 Islamic State leader Abu Bakr al-Baghdadi is reportedly suffering from deteriorating health and psychological problems, and has been admitted to a hospital in Syria, a local media reported on Monday.
"Al-Baghdadi is being treated for fractures and serious wounds in the leg, and is unable to walk by himself,'' Abu Ali al-Basri, director general of Iraq's intelligence and counter-terrorism office at the Interior Ministry, said.
According to Al-Basri, al-Baghdadi is still alive and living in the Syrian Desert close to the Iraqi border.
"We have information and documents from our sources deep within the body of the terrorist group stating that the criminal al-Baghdadi is still alive with the help of his collaborators,'' Al-Basri said.
The Iraqi official described al-Baghdadi's condition as "serious'' and said that he suffers from diabetes.
In July, the Britain-based Syrian Observatory for Human Rights said it received information confirming al-Baghdadi's death.
However, that claim has since been disputed by U.S. and Russian leadership.
There have been multiple reports of al-Baghdadi's death over the years that were later proven to be false. (dpa/NAN)