Borno Police Debunks Reports That Ten Released Women Were Police Women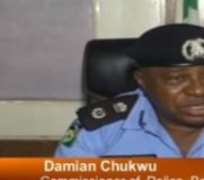 The Borno State Police Command has debunked media reports that ten women released along with University of Maiduguri Lecturers by Boko Haram insurgents were police women.
The State Commissioner of Police, CP Damian Chukwu made the clarification Monday at a monthly press briefing held at the Conference Hall of the Police Command headquarters, Maiduguri.
He said "to avoid any doubt APNo70671, Inspector Fatsuma Saleh who is a closed friend of the Late Sgt Rahila Antikirya is the only serving police woman missing alongside FNo49976 Abubakar Haruna of the State Intelligence Bureau SIAB .
The other nine women released along with the female inspector are missing friend and relations of the deceased who took advantage of the space in the Police lorry to follow the convoy that was attacked in an ambush by the boko haram insurgents".
He added that the released women are relations and friends of the deceased, Sgrt Rahilla Antikirya and not police women neither police wives, stressing that FNO 347543, Sgt Bala Tiseh of the State Intelligence Bureau was the only police man that was killed in the ambushed.
According to him, the friends and relations of the late Sergeant Rahila whose corpse was being conveyed to her home town Lassa for burial were ambushed by Boko Haram terrorists about 36 kilometers way from Maiduguri along Maiduguri-Dambia- Biu road.
The police commissioner however called on media organizations to always cross check facts before going to the press in order for the general public to be rightly guided.
While reviewing the operation of the command in the last one month, CP Chukwu paraded One Abubakar Ali of Shuwari ward, Maiduguri for pouring hot water on the face of his wife.
Confessing his action, the suspect, Abubakar Ali said he had a misunderstanding with his 8 years old first wife, Falmata Bukar Zannah who was nursing a 18 days old baby, while she was preparing breakfast, in the process he pour the hot water on her face which she was using to prepare breakfast for Two children leading to the wife sustaining serious injuries.
The commissioner added that the wife was rushed to State Special Hospital and presently receiving treatment while investigations on the matter is still going on, adding that, as soon as the investigation is completed, the husband will be charged to competent court of jurisdiction.
During the period under review, he said also that the command has also recovered 1 GPMG with 5 rounds of ammunitions from Boko Haram terrorists who held hostage some Fulani herdsmen at Galte bush in Shuwari ward of Nganzai local government of Borno state in a dual gun battle on 02/02/2018 following a tip off where they fled and abandoned the arms.
"On 03/02/2018 at about18:00hrs, one Abubakar Umar of London Ciki are, Maiduguri was arrested bySARS operative in the possession of a green colour Honda Civic with Reg. NoAT815 FGE.
"The suspects confirmed the vehicle was stolen at Kofar Nassarawa arewa, Kano' he also confessed to stealing several other vehicles both within and outside Maiduguri metropolis and sold them some individual, investigations still going on," Chukwu said.
"Also on 14/02/2018 at about 10:30 hours following a tip off by SIB operatives, 1 MIkano and 1 Lister17 KVA generating sets suspected to be stolen from MTN service point in Marte, Marte LGA were recovered in a rented apartment at Bolori area, Maiduguri and evacuated to the command headquarters.
"15/01/2018 at about 16:30 hours 3 persons armed with Den gun were arrested when they attacked the resident of Ibrahim Isah of Malam Aminari village of Mobbar LGA and carted away valuable property and unspecified amount of money", Damian added.
The police Boss further stated that during the period under review Armed bandit was also killed while 1 AK 47 rifles was recovered, pointing out that Vibe Space Wagon with Reg No. MYM70 AA stolen in Kano was only recovered.