2019: Aftermath Of Madumere's Solidarity March: Nwosu votes N200 Million For Counter Rally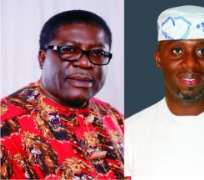 Last Wednesday's solidarity march for the Imo State Deputy Governor, Prince Eze Madumere, which took the State by storm, grounding movements in the capital city may not have gone down well with the camp of the son-in-law of the governor of Imo State, Ugwumba Uche Nwosu.

Our impeccable source disclosed that Governor Okorocha whose body language seems to swing towards his son-in-law against his Deputy, who has been his friend of about 25 years was furious, describing the outing as an affront.

Our source further alleged that Governor Okorocha who was shocked by the massive turnout for the event, described the outing as heating up the system; an action he said should not have been allowed to take place.

Meanwhile, it was gathered that Nwosu's camp which is yet to fully recover from the shock and backlash their ambition has suffered as a result of the solidarity march for the Deputy Governor, is planning a counter march with an alleged whopping sum of N200 million.

According to a leader of one of the youth groups (name withheld), "it was unbelievable that such mammoth crowd still believe in Madumere having been starved of funds to the level of stifling his ambition".

He boasted that Ugwumba with huge financial chest will triple the crowd that staged the march for Madumere.

The youth leader revealed that humiliation awaits other APC aspirants as those to muster the voice votes for Ugwumba have all received their money waiting for the D-Day, adding that leadership of All Progressives Congress have all been made subservient since they have been strategically starved to vulnerability.

He however cited examples of endorsements where each structure was paid heavily for endorsement and where the people prove otherwise, they face sanction of sack or suspension.

The unfolding events in Imo predicts that it will be battle royale with a group under the umbrella body of "Concerned Imo State APC Stakeholders", yesterday, accused Imo State Government of trying to undemocratically foist a candidate on the party through a proposed mock primary election, describing such as alien to the manifesto and constitution of the party.

The group led by Agunwa Emeka Nzeribe described Owelle Rochas Okorocha led government effort at imposing candidate on the party and threats of expelling party members as not only reckless but undemocratic and lack of seriousness on its part.