WE CAN DO WITHOUT MIKEL – LAGERBACK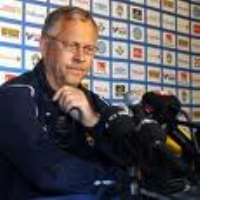 Coach Lars Lagerback says the Super Eagles showed in their game against North Korea that they can do without Mikel Obi.
Lagerback, who spoke with the News Agency of Nigeria in Pretoria on Sunday night, X-rayed the midfield and the entire game plan that earned him his first victory with the team.
'They've shown today (Sunday) they can play without Mikel, so hopefully we will do even better when we come to the World Cup,' he said.
Lagerback said it was unfortunate that the playmaker was injured and out of the World Cup.
He, however, said the crop of players in the midfield had proved their mettle.
Mikel was dropped from the 23-man squad on June 4 after he failed to recuperate fully from an injury.
He was replaced by Brown Ideye who came in on Sunday and watched the match from the sidelines.
Lagerback said in spite of the slip up, which made Nigeria to concede a goal, the defence line was impressive.
'The Korean goal was a mistake. Sometimes you do a mistake but that does not mean you complain about the whole defence,' he said.
'The defence in general was quite right. I think the defence has been good today,' he said.
'I think it's a step further in our preparation,' he said of the match, stressing that was important to win a game.
'We won the game, so that's positive though there were some areas that were good and some were not so good,' he said.
Lagerback said Ideye would now join the team in training.
'For Argentina, we will do our best. If we do that, we have a good chance,' he said of the team's World Cup opener on June 12.
Osaze Odemwengie told NAN that the result of the match was exciting.
'I'm very happy with the result.
'With the same people, the same attitude and very organised, hopefully that will bring the three points against Argentina,' he said.