Ipman  blames  nnpc Over Continuous Scarcity Of Petroleum Products In Nigeria.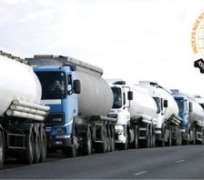 The Chairman of the Independent Petroleum Marketers Association of Nigeria ( IPMAN ) Alh. Abubakar A. Butu, has blamed the Nigerian National Petroleum Corporation ( NNPC) for creating artificial scarcity of petroleum products in Nigeria.
Speaking to newsmen in Yola, Adamawa State Alh. AA. Butu said NNPC is misleading the Nigerian people that they have the product in supply in Nigeria where as there is nothing on ground.
He stated that members of his organization in Yola have paid more than N100M to the NNPC for over two months now but NNPC has failed to supply them the products thereby necessitating IPMAN members to go to private Depots to buy the products at exorbitant prizes and sell to their customers at higher prices.
Butu said NNPC has been saying that they have the products but they are only deceiving the President and the rest of Nigerians.
He said if NNPC imports adequate quantity of the products, there will be enough supply around the country to prevent scarcity but NNPC's failure has made IPMAN and other major marketers to go to private Depots to buy the products which comes at higher prizes than the Government approved prize of N145. Naira per litre.
Alh. Abubakar Butu who is the Chairman of IPMAN Adamawa/ Taraba branch said PPPRA or DPR cannot enforce the price because IPMAN has been getting it's products from private Depots at a very high cost just to satisfy their customers and definitely they cannot sell at controlled prizes.