We'll checkmate herdsmen, farmers clash, Aregbesola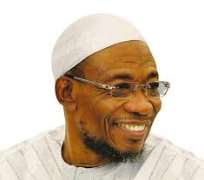 The Government of the State of Osun will forestall any conflict between herdsmen and farmers in the State, the authority said today after the State's Executive Council meeting held at Osogbo.
The government said it was aware of attacks on farmlands by herdsmen and that it would ensure the protection of farmers and other victims.
The meeting was informed of reports of the menace of nomadic herdsmen who bring their cattle to eat up crops on farms and commit other crimes in the state, the report of the meeting signed by Sola Fasure, the Media Adviser to the governor stated. The report was made available to Irohinoodua.
The State Government said it viewed the issue with deep concern and condemned it strongly.
The Council stated "It is the council's strong position that this development constitutes a threat to security of lives and food production in the state. Council is dismayed that many farmers in the state have been forced to abandon their farms, some of which have now been converted to criminal hideouts."
The State government also sympathised with the farmers and urged those affected not to take laws into their own hands but should bring this to the attention of law enforcement agencies and other relevant government agencies who are in the best position to address their plight.
The State Government also considered and approved a memorandum on the appointment of Prince Michael Babatunde Sunday Adeyemi Adedeji from Adujelewu ruling house as the next Ado Oko of Ido Oko in Obokun Local Government. Prince Adedeji emerged as the sole candidate of Adujelewu Ruling House at the end of its meeting on December 10, 2016 and was ratified by the kingmakers on October 12, 2017. Council wished him a peaceful, prosperous and successful reign.
Other considerations at the meeting were reports that harsh weather condition and old age have affected some of the general hospitals in the state. Council consequently directed the Ministry of Works to carry out physical assessment of all the general hospitals in the state to determine their physical condition, where and what need to be fixed therein and at what cost and report back to council.
Council commended the swearing in ceremony of the 389 councilors representing all the wards in the state, as the parliamentary system of government takes off seamlessly. Council approved that the inauguration of the parliaments and governments of the local governments be carried out on Tuesday February 13, 2018. Council congratulated and urged them to take their calling seriously and provide effective representation and vibrant leadership for their people, in line with the parliamentary system of government.