Policing the Police worries Aba Area Commander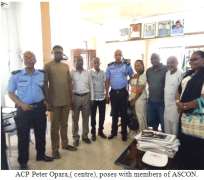 The Nigeria Police Area Commander in Aba, Abia State, ACP Peter Opara has revealed that policing the Policemen remains his primary agenda and would not stop till every Policeman in the command understands this so that they avoid those unprofessional conducts that could destroy their career and tarnish the good image of the Nigeria Police Force
ACP Okpara made the revelation when members of the Abia State Civil Society Network (ASCSON) an umbrella body of civil societies in Abia State led by Ms Amaka Biachi, paid him a working visit in his office recently. He said that Aba residents should learn to be patient when handling police matters. According to him a sensitization, training and periodic interactive session with Men and Officers of the command on Human Rights will soon kick off during which lawyers and human right activists would be invited to interact with his men.
Biachi, who is also the Executive Director, African Centre for Human Advancement and Resource Support said the working visit, was in line with their effort to deepen the understanding and appreciation of Human Rights issues and their impact on Police operations.
On behalf of the group, Biachi handed over to ACP Opara copies of Security Tips/Emergency telephone numbers which the public can use in emergency situations.The group also handed over copies of Selected Judgements (Human Rights Cases) of High Court, Abia State, Public Procurement Act,2007, Fiscal Responsibility Act,2007 and Freedom of Information Act,2011 published by African Centre for Human Advancement and Resource Support.
Ms Amaka Biachi while handing over the books thanked the Area Commander for the warmth reception and said that Aba residents are currently experiencing a humane relationship with the Area Command. She said the asymmetric nature of the Police has demanded that the Police must work more closely with the civil populace, in order to understand, identify, engage and uphold the sanctity of Human rights. According to her, these books and leaflets have been made available to enable the Police achieve a cordial relationship with the general public to have fuller interaction with the Police Community.
Earlier, the Coordinator of ASCON, Comrade Cassius Ukwuegbe thanked ACP Opara for the timely initiative and assured him that the group would make training and interactive session of the Command very realistic as officers would use the knowledge acquired to fashion out professional approaches to their police duties, in conformity with the vision of the Inspector General of Police.
He further advised Aba residents to take advantage of the Area Commander's humane approach to policing to actualize the saying that "Police is Your Friend"
According to Ukwuegbe "The police should be in the forefront of protecting the fundamental rights of the citizens and undue detention should not be entertained as spelt out in the Police Act and Regulation which include preservation of law and order, detection of crime, arrest, detention and prosecution of offenders. However, these duties should be carried out by the police without infringing on the fundamental human rights of the citizens"