FG OKAYS N10BN FOR SECOND NIGER BRIDGE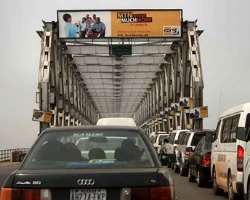 Niger Bridge
The Federal Government has earmarked N10bn for the construction of the Second Niger Bridge, just as it is set to begin an audit of road contracts awarded by the past administrations today (Tuesday).
The Minister of Works, Senator Sanusi Daggash, confirmed this during a courtesy visit by the Deputy Senate President, Senator Ike Ekweremadu, in Abuja on Monday.
Daggash noted that the audit had become imperative owing to the fact that the government had spent billions of naira on road projects over the years without getting commensurate returns in terms of good road network.
Investigations reveal that despite huge budgetary allocations to the Ministry of Works, more than 70 per cent of the 32,400 kilometres of federal roads across the country are currently in very deplorable conditions.
Our correspondent gathered that in 2009, 61 projects valued at N214bn were awarded under the zonal intervention programme, but none of the projects had been completed. The former minister of works, Dr. Hassan Lawal, admitted this before the Senate, while defending the ministry's budget proposal for 2010.
Daggash, however, noted that the ministry had inaugurated an audit team to look into the cause of the delay in the completion of the projects, adding that the audit would be completed within the next seven days.
He said, 'Tomorrow, (Tuesday), we will begin the audit of road contracts, contractors and their performance. We are worried about the fact that despite the fact that most of the road contracts have been awarded for years, no appreciable progress has been made by the contractors to complete these roads.
'And this has affected the quality of life of Nigerians. Already, we have raised an audit team from the ministry and we hope to complete the audit within one week.'
He stressed that the Federal Government was committed to providing the critical infrastructure needed for economic development, adding that efforts would be intensified to ensure that the Second Niger Bridge was completed within the next three years.
Responding, Ekweremadu said, 'Road infrastructure is critical to the overall development of this country. There is no way we can make progress without developing our road infrastructure. You can buy power generator for your house but you cannot build your own roads. Roads are very strategic and the government has a responsibility to provide good roads for the people.
'Today, the Enugu Airport is under renovation and people cannot easily travel to Enugu because of bad roads. The same applies to other parts of the country.
'On the issue of the Second Niger Bridge, we are concerned that in spite of the strategic importance of that bridge, it is yet to be constructed. But we are happy that the issue has been taken up now because the bridge connects the South-East to other parts of the country.'