I used to date Ivanka Trump, Super record producer Quincy Jones claims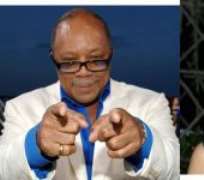 Quincy Jones is a supersuccessful record producer — with 28 Grammys — and he's 84, so basically the guy can say whatever the heck he wants — and he does.
Following that crazy interview with GQ (see: Ray Charles shooting heroin into his testicles ), Jones let his guard down once again, in a new interview with Vulture . To describe his quotes as wild is an understatement — he claims he dated Ivanka Trump (no, not her mother  Ivana ) — so we're bumping it up to crazy. Here are some gems. Jones claims to have romanced the president's daughter.
The man who says he has 22 girlfriends around the world — and they are all cool with each other — was talking about President Trump , whom he described as a "crazy motherf***er" that he "can't stand" although they used to "hang out," when he went on to say, "I used to date Ivanka, you know." Of course, no, the interviewer didn't know that Mrs. Jared Kushner, mom of three and adviser to the president of the United States, allegedly had a relationship with Jones, who is nearly 50 years her senior. Jones stuck with his story, though. "Yes, sir. Twelve years ago. Tommy Hilfiger, who was working with my daughter Kidada, said, 'Ivanka wants to have dinner with you.' I said, 'No problem. She's a fine motherf***er.' She had the most beautiful legs I ever saw in my life. Wrong father, though." Ivanka went on to meet Jared in 2007 and they married in 2009. Huh. He describes Michael Jackson as "greedy" and "Machiavellian," claims he "stole" songs.
Jones, who co-produced Michael Jackson's biggest-selling albums, said he hated to "get into this publicly," but then happily went into how Michael "stole a lot of songs." For example, Donna Summer's "State of Independence" in "Billie Jean." He said, "The notes don't lie, man. He was as Machiavellian as they come." Also, he said "Don't Stop 'Til You Get Enough" included a part that was written by Greg Phillinganes, but he didn't get credit for it. "Michael should've given him 10 percent of the song. Wouldn't do it," Jones said.
He also talked about Michael's plastic surgery obsession, saying, "He'd always justify it and say it was because of some disease he had," referring to vitiligo. "Bulls***." He added that Michael "had a problem with his looks because his father told him he was ugly and abused him. What do you expect?" He knows who assassinated President Kennedy.
When asked to name something that he wishes he didn't know, he replied, "Who killed Kennedy." He said that Chicago mobster Sam Giancana was really the triggerman who murdered JFK. "The connection was there between Sinatra and the Mafia and Kennedy. Joe Kennedy — he was a bad man — came to Frank to have him talk to Giancana about getting votes," he said. When prompted further, Jones said, "We shouldn't talk about this publicly."
He thought the Beatles were terrible.
Asked for his first impression of the iconic band, Jones replied, "That they were the worst musicians in the world. They were no-playing motherf***ers. Paul was the worst bass player I ever heard. And Ringo? Don't even talk about it. I remember once we were in the studio with George Martin, and Ringo had taken three hours for a four-bar thing he was trying to fix on a song. He couldn't get it. We said, 'Mate, why don't you … take an hour-and-a-half and relax a little bit.' So he did, and we called Ronnie Verrell, a jazz drummer. Ronnie came in for 15 minutes and tore it up. Ringo comes back and says, 'George, can you play it back for me one more time?' So George did, and Ringo says, That didn't sound so bad.' And I said, 'Yeah, motherf***er because it ain't you.' Great guy, though." He claims Marlon Brando slept with everyone — male and female.
Less nuts on the crazy scale is that superstar Marlon Brando, who was a close friend with Jones, had a lot of sex. We "used to go cha-cha dancing," he said, adding that Brando "could dance his ass off." He went on to describe him as "the most charming motherf***er you ever met," but "He'd f*** anything. Anything! He'd f*** a mailbox. James Baldwin. Richard Pryor. Marvin Gaye." When asked if he slept with those three stars, he replied, "Come on, man. He did not give a f***!" Then he asked the reporter, "You like Brazilian music?" as if he didn't just make some outrageous allegations about a Hollywood icon.
Jones's interview is best ingested in its entirety because you really have to read it all to believe the craziness of it