DELTA 2019: Aniocha North Political Heavyweights Mobilizes For Okowa
...Launch pressure Group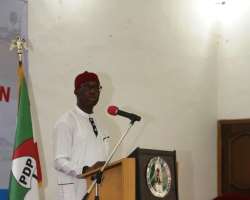 Political heavyweights drawn from Aniocha North local government area, Delta state have gathered to champion Okowa's second term ambition ahead of the 2019 general election.
This was a resolution reached Friday at the Unity Hall, Issele-Uku by Nkem Okwuofu, Ndudi Elemulu, Chuks Oseme, Emma Eboh and others during their separate good will messages at the launch of a pressure group known as Delta Grassroot Movement (DGM).
According to them, Okowa would complete his 8 years tenure as Central and South Senatorial Districts have token their turn each of 8 years, stressing that, for equity and fairness sake, "Delta North will finish its 8 years".
"This occasion is good to be part of because the course we are in now is Okowa's matter. The massage should be spread to all nook and cranny of our local government. Anoicha North has benefited immensely in this Okowa's first tenure in terms of projects and appointment and his second term will be a plus for us".
"The main objective of this pressure group is to galvanize, mobilize and actualize Okowa's second term, we are no longer talking about the wining but our concerned is the margin to win with", they said.
Chief Okwuofu said they very optimistic that these sets youths are capable to take over from them in politics, as the DGM has shown commitment with their political sagacity today in a bid to deliver Okowa in next the election.
Earlier, in his address, the president of Delta Grassroot Movement (DGM), Richard Anonyei said that DGM is a grass root template for massive mobilization towards election victory for PDP.
He said that the pressure group among other objectives was to serve as a grassroot mobilization for Senator Ifeanyi Okowa and all PDP candidates come 2019 general elections.
While he urged everyone to accept this association in their local government area, Anonyei noted that many persons in the state have been empowered through the association.
"Dr Okowa has done massively well in his SMART Agenda across the state, narrow it down to our LGA we have seen various ongoing and completed projects in Aniocha North; upgrading/rehabilitation of the Technical College Issele-Uku, Onicha Ugbo road, Issele-Uku/Olona road, Obomkpa/Idumugo road, Idumuje- Unor/Ugboko road, Ukwu-Nzu road among others".
"Going by these projects within our local government and the entire state so far, we DGM had concluded alongside with other political organization in the state to mobilize massively for the return of Ifeanyi Okowa come 2019" he said.
The occasion was attended Chief Chris Njokwemenu and Ifeanyi Osuoza among other dignitaries.
Highpoint of the occasion was a vote of confidence passed on governor Okowa-led administration