REPS ASK SECURITY AGENCIES TO PROBE THREATS TO SPEAKER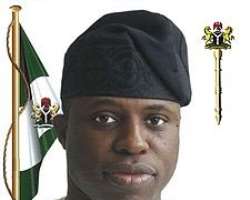 Barely 24 hours after the Speaker of the House of Representatives, Mr. Dimeji Bankole, raised the alarm over alleged threats to his life, the leadership of the House on Monday called for a thorough investigation into the development.
It also asked security agencies to investigate warnings by some lawmakers that they would make the House ungovernable when members reconvene in Abuja on June 22 from their two-week recess.
The Chairman of the House Committee on Media and Public Affairs, Mr. Eseme Eyiboh, said that the threats were disturbing and had serious security implications for the country.
A statement in Abuja by Eyiboh reads in part, 'Our worry is not only on the threat of anarchy but the implications of these threats at a time when the various arms of government and the President are doing all that is needed to create leverage for a peaceful, united and integrated Nigeria.
'It becomes more worrisome when such a threat is coming from a legislator at the same time the leadership of the House is stepping up its commitment by rallying members to come out with legislative engagement that will empower executive action.
'It is in the light of this development and trusting the judgment of the security agencies, it is our conviction that this threat will not only be investigated but its origin will also be given a considerable attention.
'And it must also be placed on record that the leadership and members of the House have already created a support base for the President in his cooperation with the policy direction and budgetary proposals of the executive.'
But a member of the House, Mr. Dino Melaye, who had openly declared his opposition to the Bankole leadership, reacted on Monday, saying that the speaker was creating diversion because some lawmakers were demanding his resignation.
Only on Sunday, Melaye had stated that some lawmakers 'were of the view that because of the petitions against the speaker before the anti-corruption agencies, it was right for him to resign before being asked to do so.'
On Monday, Melaye said that every Nigerian, not just Bankole, deserved security protection and as such 'threats, even via text messages, should be investigated.'
He, however, added, 'It is common knowledge that the speaker moves in a convoy of bullet-proof Range Rovers and Mercedes Limousines, complete with a detachment of riot policemen and State Security Service operatives, all at taxpayers' expense.'
'If he is complaining of threats, what is the hope for ordinary Nigerians who brave their threats without cover?
'In any case, we may add a detachment each of the Army, Navy and Air Force in armoured vehicles and relocate his accommodation to the barracks.
'What do you think? The speaker should put his things together and vacate the office of the speaker and stop using diversionary methods.'