Magu Lauds Buhari's Appointment as Africa Anti-corruption Champion, Advocates Regional Collaboration against Graft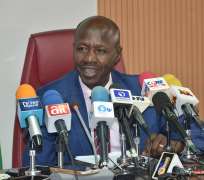 Ibrahim Magu, Acting Chairman, Economic and Financial Crimes Commission, EFCC, has stressed the need to build strong regional and national institutions to effectively fight corruption by adequately empowering national anti-corruption institutions and insulating them from undue political interference.
"Africa must also enhance institutional collaboration between law enforcement and anti-corruption agencies as well as strengthening the existing criminal justice system through exchange of information in line with international best practices", he said.
Magu made this assertion on Thursday, February 1, 2018 at a joint press briefing on the outcome of the 30th African Union, AU, Summit held in Addis Ababa, Ethiopia.
The briefing had in attendance, the Minister of Foreign Affairs, Geoffrey Onyeama; the Minister of State (Aviation), Hadi Sirika; Director General and Chief Negotiator, Nigerian Office for Trade Negotiations (NOTN), Ambassador Chiedu Osakwe who were all part of the presidential delegation to the Summit where President Buhari was named as "African Union's Anti-Corruption Champion" in recognition of his administration's enviable track record in fighting corruption in Nigeria.
Prior to the endorsement, the African Union of Heads of State had declared 2018 as the "African Year of Anti-Corruption" with the historic theme - "Winning the Fight against Corruption: A sustainable path to Africa's Transformation."
Magu, while stressing the need for unity in fighting corruption across the African continent noted that "from experience, the fight against corruption is not an easy task".
He added that measures must be taken to address the gaps in our systems in order to effectively check corruption and impunity.
His words: "EFCC is delighted to be involved in this onerous task of walking the talk in leading the continent in the fight against corruption while canvassing for Nigeria to lead the following initiatives: African Union Convention on Preventing and Combating Corruption (AUCPCC), Support and Capacity Building of other African Anti- Corruption Agencies, Implementation of existing anti-corruption policies amongst member states, Measures on Corruption Prevention, Strategies that will support rule of law for effective and efficient operations between the Anti-corruption agencies and the Criminal Justice System, Good governance and Efficiency units within the public system and to promote an "African Common Position" framework on the recovery and repatriation of African assets hosted in foreign jurisdictions".
The anti-graft czar expressed his willingness to partner with national authorities, regional bodies, development partners, civil organizations, CSOs, Non-Governmental Organizations, NGOs and ultimately all the people of Africa to effectively fight corruption and impunity within the continent.
The EFCC boss added that efforts geared towards the fight against corruption would enhance the realization of the Agenda 2063 on Africa's transformation and sustainable development.