Don't Marry a Woman to Come Cook for you…Actor, Prince Emmy Warns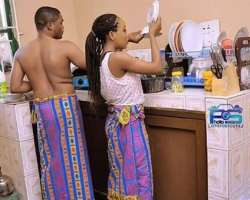 Nollywood actor, Prince Emmy, has come out to warn some men who have not been caring to their wives to do so to help enhance love in the marriage.
The actor stated that there are some men out there who do not care as their duty is just to seat back and watch Tv while their woman does all the house chores.
Prince noted that the various labours women go through in the home coupled with already stressed body being forced for s3x are part of the things that makes them look three times older than the men.
"Many women look 3 times older than their age because of stress and exhaustion. We marry them and then turn them into maids. You seat down in front of the TV with your phone and watch your wife work until she's about to pass out and just before she sleeps, you still want sex. Seriously, are you kidding me.
"Don't you see you are wicked? As a man, who told you that it is wrong to wash dishes? Who told you that it is wrong to dress a bed? And there's this twisted view of marriage that has led to an increase in domestic violence where they'll see a man cooking and they be like "Guy, you need to get married so you can stop cooking". Let me tell you, don't marry a woman to clean or cook for you but marry to assist, love, cherish and enjoy each other. If you are getting married because you feel you need someone to cook and do all house work for you, then get a housemaid."