Provocative photo shoot of black women 'praising' a white woman sparks debate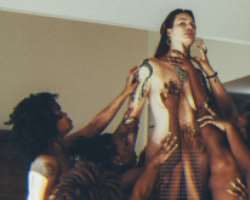 From  Kim Kardashian's "Bo Derek" braids  to influencers uniting  for change within the fashion industry , without a doubt, you are going to find some thought-provoking moments on social media. Another case in point: A recent photo that surfaced of naked women of color holding their hands up toward a white woman standing in the center has caused quite a stir.
 
Visual composer  Bennie Rose  has built a name for himself, thanks to the titillating images he shares online, and his latest photo has not only received thousands of likes but also garnered more than 500 comments. Many people are confused about the actual message behind Rose's imagery, while others have expressed uneasiness about a white woman being portrayed as a "superior."
One person wrote on  Instagram , "black art is supposed to uplift not leave you feeling hopeless.. after all we've over come this isn't the image I wanted to see."
"First thing I thought of is how lucky we all are to be surrounded by that which is unconditional love and support," yoga and meditation instructor  Mila K . wrote. "Surely as a Black woman I have been stepped on and over by people who look like me don't look like me both men and women. For me this felt like how many of us live in selflessness so that others may feel their empty as full. So I see those surrounding her not as a negative but as colored compassion that is so natural it's a naked truth."
Yahoo Lifestyle  caught up with Rose to find out what exactly sparked the creative direction for his latest work, and surprisingly, he admitted that the idea actually wasn't his own. "Before everybody came over, I had an idea," he said. "I thought in total we're only going to have about three bright-skinned women. But we're going to have to do something with that."
He continued, "But what ended up happening is, we ended up with just the one bright-skinned person, everybody else was darker, and then the models had came up with the idea. It was like, 'Oh, you know what would be a good idea? How about we do this?' And I was like, 'Oh s***. Let's do it.'"
Speaking on the underlying tone of the portrait, Rose simply said, "There is no back story." He believes the meaning is however people react to it. It forces feelings out of people, and that serves as the art piece. "It's a truth and a pantheon of perspective of society."
In fact, the 24-year-old photographer was not at all shocked that his photo caused an uproar. "We knew it was going to happen," he said. "My girl had pulled me to the side, and she's like, 'Are you sure you want to take this picture?' I was like 'F*** yeah. It's brilliant. It is a brilliant image!'"
Rose is a self-taught photographer, and he often draws inspiration for his out-of-the-box images from the subject or person he's taking a photo of. Many of his pictures are inspiring, and there are others that evoke negative responses, when he's had images reported or removed from Instagram. This is his third time creating a new account, and this time around, he's managed to gain more than 80,000 followers.
This isn't the first time a photo of this nature ended up on social media and confused people. In 2017, a  photo of five black women  with different complexions sparked a debate as to why the model with light skin was placed front and center among the group of darker-skinned models. The photographer explained that he "didn't put her in the middle because her skin tone was better. I put her in the middle because I wanted her to stand out, and the reason I wanted her to stand out is because her color was so different."
Rose revealed that there is more to come from the controversial photo shoot that's left people with mixed emotions. He hasn't publicly responded to anyone and doesn't plan on allowing the internet to get in the way of his continually creating. "It's just like, if I see something, I take a picture of it — it's on you to figure out what's what," he says. While we can't predict what imagery Rose will drop next, you can bet it will be another attention grabber.
In the meantime, check out a few of Rose's other provocative visuals that are probably like nothing you have ever seen before.