FG determined to end herdsmen-0farmers clashes: Osinbajo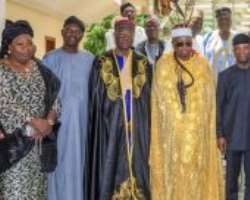 Vice President Yemi Osinbajo said Monday that the  Federal Government was committed to  ending the incessant clashes between herdsmen and farmers in the country, which have  left thousand dead and many injured.
 "President Muhammadu Buhari is determined to resolve the herdsmen-farmers clashes in Adamawa State and return peace and order to the affected communities," the vice President told  a delegation led by the traditional rulers of Batta and Bachamma communities, in Adamawa State.
He spoke at the  Presidential Villa, Abuja, while receiving the delegation.
According to him, "much damage has been done, not just security-wise, but to the psyche of the people; due to the series of attacks, people are afraid. We are also looking at repairing the damage that has been done to the infrastructure of the communities and rehabilitate the people."
Since visiting the affected communities, in Adamawa on December 5, 2017, the vice president had commenced a series of national consultations with all relevant groups to find a lasting solution to the conflict in parts of the country.
On the issue of proffering permanent solution to the crisis, Osinbajo further said the report provided by the National Animal Production Research Institute (NAPRI), Zaria, would be considered admonishing the people of the affected communities to embrace peace and not to seek revenge.
In his remarks, the Hama Batta thanked the Osinbajo for the invitation and his visit to the affected communities late last year saying "We came to thank you for your visit (to Numan communities). You made promises of relief materials when you visited, and the relief materials were brought. Also, the Special Forces that you promised responded on time. There is also now a police command with a Commissioner of Police."
Also speaking, the Hama Bachamma echoed the words of the Hama Batta, and thanked the Presidency for its efforts so far in tackling the issue.