Leading the new generation of female broadcasters. Meet Serwaa Amihere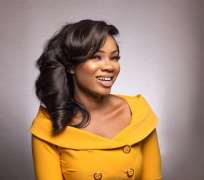 Her insight, enthusiasm and dedication to news production greatly inspired colleagues in the newsroom, reason she was adjudged Best News Room Staff of the Year, 2017 by GHOne TV. Serwaa Amihere was born on 8thMarch 1990, first child to Lydia Tettehand Frank Yeboah.
Stepping out of her comfort zone in the entertainment industry where news is more softer and filled with sensational gossips, SerwaaAmihere joined the GHOne News team and readily bonded with other reporters, instantaneously started learning from experienced mentors like Nana Aba Anamoah and Bola Ray, who took her through various teachings to enhance her experiences worth the journey into the space of broadcast journalism.
She needed to learn and adjust quickly to beat tight schedules; the skills demanded in any newsroom are quite different from that used in the area of showbiz. "Indeed those early lessons are with me everywhere I go" - She explained.
We are proud of Serwaa Amihere's accomplishments, incredibly gifted news anchor, producer and event host.
You will know SerwaaAmihere as the talented young Ghanaian female broadcast journalist, known for producing the award winning current affairs/political show on primetime televison, State Of Affairs. She also reads the early morning news on the number one breakfast show in Ghana, GH Today.
Resourceful lady. SerwaaAmihere also reports for GHOne News on GHOneTV and occasionally hosts the ever-trending sports show, Cheers on Saturday mornings.
SerwaaAmihere has been part of several charity projects, supporting children and young women with specific focus on the marginalized and persons living with disabilities. Hoping to implement more philanthropic ideas, her new 'S.A Initiative', which will be launched soon, will address the gap of women enterprises in a male dominated business space.