​IRS Chairman, Rabiu Isyaku Rabiu, Obe reject alleged NIM membership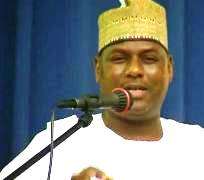 The Chairman of IRS Group, Alhaji Rabiu Isyaku Rabiu and a legal-based practitioner/civil society activist, Mrs. Ayo Obe have disowned their alleged membership of the Nigeria Intervention Movement (NIM) Party - a party formed by some Nigerian political and human rights activists with an aim to partake in the 2019 general elections.
In their separate statements made available to newsmen on Wednesday, Alhaji Isyaku Rabiu and Mrs. Ayo Obe said they never attended any meeting of NIM and were never contacted before they were allegedly appointed into any position with NIM.
Isyaku Rabiu Chairman of IRS described the information that he was the Deputy National Chairman of NIM as misleading and a misrepresentation of his position regarding political activities in the country.
He further explained that the publication and sad appointment were done in error as his nonpartisan status on general political activities in the country fuses with his vision to build bridges of love, understanding, peace and security, unity and trust, service, sacrifice, patriotism and development across the country.
Part of Rabiu Isyaku's statement reads: "While it is true that in the course of my discussions and interactions with people of like minds in Nigeria at different fora, I (like many other well-meaning Nigerians who see this as a prerequisite for a great Nigeria) subscribe to the idea of encouraging very large youth population & pressure groups that will promote peace and unity in Nigeria and also serve as a platform to fight corruption and ensure good governance by the political class, I was invited to join the group NIM on the understanding that it was going to be a pressure group that supports the above and vision. At no time did I attend any meeting of the group where it was discussed and agreed that I was to serve as the Deputy National Chairman of the movement or that the movement was going to be a political party or association that will partake in politics.
"In order to avoid any misleading information or misrepresentation of my position regarding general political activities in Nigeria, I wish to state categorically as follows: That the said appointment and publication was not known to me and a grave mistake by NIM for which they have expressly apologized to me.
"That I maintain a nonpartisan status as it suites my vision of building bridges of love and understanding, peace and security, unity and trust, service, sacrifice, patriotism and development across all sections of Nigeria and that I remain committed to the various groups and organizations, set up by me and by others and to which I am associated with. These group must have as their focal points good governance, true democracy that is anchored on credible elections, the training and entrenchment of good character and leadership traits for our youth, respect and value for the status of citizenship and the ultimate objective of the welfare & well-being of the generality of Nigerians.
"That while wishing all political parties and associations well, I maintain a nonpartisan status and will appeal an appreciation of this right that I am entitled as fundamental", the Statement concluded.
On her part, Mrs. Ayo Obe said she didn't subscribe to the use of her name and photograph in promoting the group noting that her contact was added to the social media platform without her consent.
According to Obe, "I have not taken part in any of its social media discussions, I have not physically attended any NIM meetings, and I have not offered myself for appointment, election or selection into any of its offices or committees. Despite this, my name and/or picture have been circulated on at least three occasions as having some position, or having been appointed to committees of the NIM.
"Now, as more and more people have continued to ask me questions about NIM which I am neither able nor inclined to answer on its behalf, it seems clear that it is only the messages associating me with NIM that have reached, and remained with, the wider public. It is therefore incumbent on me to make it clear that I am not a member of NIM.
Obe welcomed efforts to present electorates with different ways to approach politics in the country but said, "This clarification should not be taken as criticism that a group of Nigerians have taken it upon themselves to offer something new in the form of NIM. I wish the group well in its endeavours. But I am not one of its members, officers or supporters".