"The Third Force" – NIM, a new and emerging political movement in Nigeria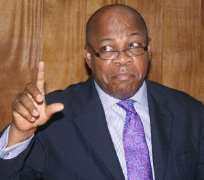 As Nigeria's 2019 general  elections  are around the  corner , politicians cutting across a  broad spectrum , including several leaders of the All Progressives Congress (APC) and the Peoples  Democratic Party  (PDP), have started to seriously  consider  joining forces with an emerging political movement through which they can wrest control from the APC-led government in the 2019 poll.
As it is now, "The Third Force" or Nigeria Intervention Movement (NIM), as a group is gaining popularity among several former governors and current and past members of the legislature, who are dissatisfied with the APC and President Muhammadu Buhari's style of governance, which they say has divided the country like never before.
Another thing going for the Third Force is that it already has the blessings of three or four former heads of state who are committed to supporting them to entrench a new political order and leadership for the country that is transformative and visionary.
Prominent members of the group already include former Cross River State governor,  Donald  Duke, former governor of the Central Bank of Nigeria (CBN), Charles Soludo, former President of the Nigerian  Bar Association , Olisa Agbakoba (SAN), Tafawa Balewa, and Prof. Pat Utomi.
Former education minister, Mrs. Oby Ezekwesili, is also a member of the group, including former Information minister, Frank Nweke Jnr, former Kaduna military administrator, Col. Abubakar Umar (rtd.), Ms. Ayo Obe, Rabiu Ishyaku Rabiu, and former presidential adviser, Akin Osuntokun, among several others.
Recently, the political movement announced provisional task force teams and steering committee members.
Its members' goal is to use NIM as a third political force to provide a credible alternative platform for ideal and acceptable political leadership and governance in Nigeria.
It is a purely owned political platform by the mass movement of the people of Nigeria and does not have founding father owners or moneybag investors.
NIM has stated that it is not a political party per se, but a mass movement of ideologically and compatible Nigerians to move against the governing order status quo and operate as one force majeure entity under a political mission and agenda to always ensure the entrenchment of a new and ideal leadership order in Nigeria.
It will work with other splinter political,  civil society  and professional groups of interest in Nigeria to negotiate for power and  elective offices for its members; support them to contest and help them to  install  acceptable governments in every part of Nigeria.
Several APC members looking to join the movement are also considering it favourably because most of them who fought to bring the party to power in the 2015 elections are extremely disappointed with its performance and its hijacking by a few members of the president's inner circle.
More importantly, a source linked to the group disclosed that there is growing displeasure over the manner the Kaduna State Governor, Nasir el-Rufai, and the Minister of Transportation, Rotimi Amaechi, have championed the so-called "Buharists Group" without stakeholder  consultations  or recourse to other leaders of the APC.
"The so-called Buharist Group led by the duo of el-Rufai and Amaechi has rubbed several leaders up the wrong way. They are deemed abrasive and are unmindful of the fact that Buhari may be a hard sell in the 2019 elections.
"Yet they are trying to force his candidacy down our throats like he is the Messiah," said the source.
In the case of PDP members who are favourably disposed to The Third Force, their grouse with the main opposition party is that it has been hijacked by the Rivers State Governor, Nyesom Wike, and his Ekiti State counterpart, Ayodele Fayose.
They also like the fact that the Third Force is a broad-based, centrist and moderate movement, where  ethnicity  and tribe have been completely relegated and will play no role whatsoever in its mission and objectives.
According to the source, it is not just politicians who are eyeing the Third Force, as several Nigerian youths who are tired of the old order are also keying into the platform because most of its members are tested, well educated and younger professionals who are committed to serving their country and leading it in the right direction.
"The Third Force is being looked at seriously because those who have formed it are not bound by primordial sentiments. They also see it as a broad-based coalition of minds like it was in the days of the National Party of Nigeria (NPN), back in 1979-1983.
"It is also attracting a lot of interest because there is no predetermined strongman or moneybag, it was formed by committed professionals with the best interest of Nigeria at heart.
"With this kind of platform, it can be guaranteed that the process that will throw up a presidential candidate will be a fair and transparent process," the source explained.
Given the growing interest in the Third Force, its leaders have been going round the country and holding consultations with critical stakeholders, statesmen and leaders nationwide to buy into its vision to rescue Nigeria from APC and PDP, among others, that have failed Nigerians. (Thisday)