Oby Ezekwesili regains freedom after police arrest in Abuja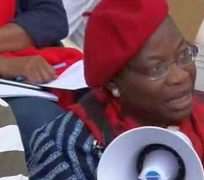 Police say Ezekwisili, other BBOG leaders were in protective custody
The former Minister of Education and convener of the BringBackOurGirls group, Oby Ezekwesili, and other leaders of the group were released from the police custody on Tuesday evening after they were arrested in Abuja in the morning.
Ezekwesili said the police refused to tell them reason they were arrested Tuesday in Abuja.
Her arrest, however, was believed to be connected to the activities of the group.
The former minister had in to tweet on Tuesday morning said she was being detained in Abuja on the order of the president of Nigeria, Buhari.
She wrote, "President @MBuhari at your instruction, the IG of @PoliceNG continues to detain me and have arrested some of our members.
"President @Mbuhari , the police officers deployed by IG of @PoliceNG is violating my freedom of movement by locking me in broad day light at the Unity Fountain.
"This is a democracy. Officer Tina Ishaya just again refused to let me out of their wall.
"The FG of President @MBuhari instructed the IG of @PoliceNG to detain me and other members of @bbog_nigeria here at the Unity Fountain.
"Police men and women have built an impregnable wall and locked me in. I have asked them more than 30 times to let me out and they refused."
The group has been carrying out sit-outs in Abuja since more than 200 girls were abducted from Government Secondary School, Chibok, in April 2014 by Boko Haram insurgents.
Mr. Ezekwesili's BBOG group has sustained its advocacy for the safe return of the girls to their families for more than three years.
She said Aisha Yesufu, a known critic of the President Muhammadu Buhari-led administration and six others, were also arrested.
In a series of tweets after her release, the former minister said the Abuja commissoner of police, Sadiq Abubakar Bello, who ordered their release did not state why they were detained.
"Without stating the reason for our arrest and detention, Commissioner of Police at the FCT Command, CP Bello has asked us to be let out of their station," she tweeted.
But the FCT Police Command however denied arresting and detaining Ezekwesili and other members of BBOG campaigners.
The Command Spokesman, DSP Anjuguri Manzah explained that some members of the group were only taken to the Command to forestall breakdown of law and order.
The statement reads : "The FCT Police Command wishes to clear the air and set the record straight that it did not arrest or detain Prof. Oby Ezekwesili and some members of the Bring Back Our Girls group as being speculated on some social media platforms."