Imo Apc & Eze Madumere: So Long A Letter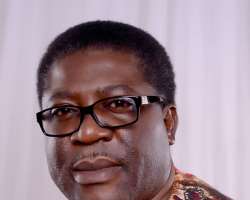 An African proverb says that, "It's very easy to deceive a prostitute to have her the second time but it's suicidal to deny impregnating her after first and second abortions"
According to Mariama Ba, a Senegalese Author, in his novel, "So Long A Letter", the main character, Ramatoulaye Fall and her best friend Aissatou has a very tensed misunderstanding following the sudden death of Ramatoulaye's husband, Modou from a heart attack. The letters were written while Ramatoulaye participated in 'iddah', a four month and ten day mourning process that widows of the Muslim Senegalese culture must follow. Through the letters, Ramatoulaye described the emotions that flooded her during the first few days after her husband's death and spoke in detail about how he lost his life. She then discussed the life that she led with her husband, leading up to when Modou betrayed her by taking a second wife without her knowledge after 25 years of marriage. Ramatoulaye details to Aissatou how she dealt with this betrayal emotionally and how she grew throughout each event in her life".
It might be slightly difficult for non literary students to understand the rhythm of this article that carries deep and insightful meaning especially, now that the political drum beat is sounding very loud.
Needless to talk about the ruling party in Nigeria and Imo State, the All Progressives Congress (APC) without beaming searchlight on the leadership structure of political parties in Nigeria following the release of 2019 election timetable.
The greatest challenge facing Nigerian democracy today is the absence of a real and functional party system. The legal conformity of our parties to the Constitution is in reality the least of their problems. Nigerian political parties have no ideology or programmatic vision, and even most importantly, they have no members who participate in party activities because they believe their parties have something to offer their country. Depending on their financial capacity, most parties and their candidates source for and pay crowds to provide participants for their activities.
It is for this reason that often, the same persons would be seen attending the activities of different parties, but s elections approach, crowds line up to attend congresses and primaries for a fee. Although most parties have no real members, even though more are being registered.
With elections around the corner, political entrepreneurs are busy registering new parties to cater for desperate politicians who will lose out in the forthcoming party primaries and would be willing to pay huge amounts of money to get a platform to contest in the elections.
Thank God that the ruling APC is very grounded and possesses capable and qualified candidates to move the programmes of the party to an enviable height. As an infant, I was properly told by people around me that hardwork begats happy reaping, so if the proverb still stands as it were, the ruling party, APC has nothing to loose in the forthcoming election if Prince Eze Madumere, MFR, the Deputy Governor of Imo State is fielded as the Governorship candidate of the party having sacrificed alot, risked his life, went to jail just for the sustenance of the party.
Prince Madumere we know is cool headed, intelligent, meticulous and enduring, one wonders why it is taking APC a second breath to think towards him after all he has done for the party, but I am aware that even though the Mbieri Prince is the suitable goal keeper for the 2019 match, there's no gain-saying the fact that leadership of the party is trying to ensure that everyone e.i.(the contenders and pretenders) are accommodated. Could this tactics be a kite ready to be flown? Time will tell!
I am very disturbed when people shout that the Mbieri Prince is not making his governorship bid known, or however has refused to declare when every Tom, Dick and Harry have done so or better still branded their campaign vehicles for the project. What these curious individuals forgot to understand is that "the starter of a raise, most times is never the winner", they also forgot that Prince Madumere is not desperate even though he deserves the plum job, he is not moved by the actions of his rivals, he is not in any competition with anyone because he believes that power comes from God.
I am also aware that even though the Mbieri Prince has taken his time to study the atmosphere, he is very careful never to hit up the polity. Remember that he is the second in Command in the present government in the state. At a time when he was asked why he has not called it a shot in the governorship raise yet, he replied "How would I look, how would I appear in the public, what would be my gain and who would I please if my ambition becomes catastrophic?, yes i am informed that many are desirous of seeing me declare but at the right time, the barren woman will conceive and bear children and the world would rejoice".
Little wonder why he is nursing an ambition but he has not made it open, this question is very correct and is expected of people of like minds who have seen what others have refused to see in him, the question could only come from people who have seen the requisite qualities, political will, academic heights and his administrative mannerism now or in the past.
A friend once told me that "APC primary election is needless if Prince Madumere is on the raise", yes we understand your plight and how you want the best for the state in 2019, but what is worth doing must be done very well. We understand that the Mbieri Prince is in charge, but it would amount to disservice if party primary is conducted only for him without putting the interest of other pretenders into considerations. At the right time, the locust, the kankerworm and all the reptiles eaten off what belongs to APC in Imo State would be sprayed with insecticide, and quess what happens next?
Where were the noise makers and political contractors when APC was formed?, who were those people that called APC names and made people to see it as muslim party? where were they when Eze Madumere was jailed over a vision, where were they when Eze Madumere was busy building the party with his boss, where were they when everyone deserted, gossiped and maligned Owelle Okorocha and Eze Madumere because of what they believed in? In Igbo land, "one can only reap from where you have sown" and when one begins to reap when you never laboured for, it amounts to theft or stealing.
Democratic political systems have traditionally used one clear method to reduce the number of parties or candidates contesting elections. They have developed regulations that make it impossible for parties or candidates without significant support to be on the ballot. Rather than ignore them, they allow them to exist but insist they must show their support through proxy from a large number of citizens or elected representatives before they can get onto the ballot. This is the path we should take in Nigeria.
Without much ado, APC in Imo State has very formidable leadership that understands the price of commitment, sacrifice and fraternity. I have no doubt in me whatsoever that God remains the Commissioner of all Commissioners.
Wait, Watch and See the handiwork of God manifest on due season, as the husband would not marry another wife without the knowledge of a wife he has lived with for 25 years. APC...So long a letter!
---------------------------------
Esogibe Ikenna is an Opinion Moulder and a Social Crusader