Yobe Repatriated 216 Persons From Libya... As YBSG Hands Over the Deportees to LGCs Chairmen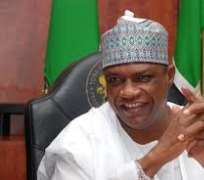 Yobe State Government has reunited additional 216 persons deported from Libya with their families in the state Saturday.
The Yobe state Commissioner for Justice who is also The Chairman Repatriation Committee, Alhaji Ahmed Goniri said this while handing over the deportees to their respective local government council chairmen in Damaturu.
Ahmed said 182 deportees out of the 216 deportees were indigenes of Yobe state, 33 deportees were from Niger Republic and only one was from Borno state.
Goniri said: "They initially claimed to be from Yobe state but on profiling them, we come realise that 33 are from border communities in Niger Republic while one is from Borno state.
"We have now handed over the Nigerians to the Yobe State Controller of Immigration for onward repatriation back to their country, Niger Republic".
However, the Chairman of the Repatriation Committee commended Governor Ibrahim Gaidam for his prompt approval to evacuate the returnees.
The Permanent Secretary, Yobe State Emergency Management Agency, SEMA, Alhaji Musa Jidawa said the evacuation of the returnees has given the deportees and their families a sense of belonging.
According to him, the deportees were properly screened by the relevant security agencies, medical personnel and humanitarian organisations before handing them over to their respective LGAs.
Jidawa said: "We have put a technical mechanism in place to effectively monitor the delivery of the deportees to their communities".
It will be recalled that 29 deportees were earlier deported from Libya and repatriated to Yobe state last week.
One of the deportees, Abba Modu commended Yobe state government for conveying them from Port Harcourt town to Yobe state.
Modu said: "Governor Gaidam acted like a true father to all of us by repatriating us back home."