EXCLUSIVE: ACTRESS PEJU ASHAYE SPEAKS ON HER FIGHT WITH FATHIA BALOGUN OVER CORPORATE PICTURES BOSS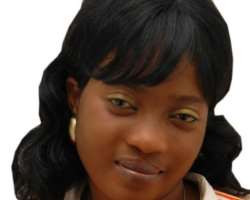 There seems not to be an end to the war between star actress, Fathia Balogun and budding Yoruba movie actress, Peju Ashaye over alleged romance with Corporate Pictures Boss, Alhaji Rasak Abdullahi.
In the past one year, there have been several stories that the intelligent and respected movie marketer decided to shop for a replacement for Fathia whom he has been romantically linked with for more than 2 years. A reliable source hinted www.nollywoodgists.com that the latest news in the Yoruba movie industry is the ragging war between Fathia Balogun and Peju Ashaye.
Sometimes last year the duo were involved in a war of words over Corporate Pictures Boss,Alhaji Rasak Abdullahi. The cold war raged on until elders in the Yoruba theater industry called both parties to order after alleged threat calls to each others on mobile phones. Contrary to expectation that the Fathia and Peju would sheath their swords, the duo have continued to make moves which indicate war and disaffection. Hitherto, the romance between Alhaji Abdullahi and Fathia was the most celebrated affair in the Yoruba movie industry. Their romance became more pronounced when Saidi Balogun and Fathia separated after a few years of a union which gave birth to 2 kids; Khaleed and Haliya. The reason for this is that Fathia has it on good authority that Alhaji Abdullahi has soft spore for busty and dark complexioned Peju who got into the movie industry about 5 years ago is having an affair with the top marketer. This makes their negative disposition to one another evident at movie locations.
www.nollywoodgists.com source said further, ''The relationship between Fathia and Peju can simply be described as that of cat and mouse. They both avoid each other at movie locations even when they separately greet other colleagues and avoid each other like plagues.'' Peju has continually denied being threatened by Fathia or having an affair with the respected accountant turned movie marketer. While there are strong indications that Alhaji Abduallahi and Fathia may not be as close as it were. The dark complexioned graduate of Public Administration from The Polytechnic Ibadan who hails from Ogere-Remo Ogun State after a lot of persuasion about the war between her and Fathia over the alleged romance with Alhaji Rasak Abdullahi. Enjoy it.
Why have you been off the scene?
I just finished HND programme at The Polytechnic Ibadan, Oyo State. That has been responsible for my absence from the movie scene.
How does movie start for you?
I was a member of the choral group in my secondary school. After my secondary school I went to National Arts Theater where I met late Bimpe Adekola. That same year I became a member of Odunfa Caucus of Association of Yoruba Theater Arts Practitioners (ANTP) in 1995. It was there I learnt the basics of Yoruba Theater Arts.
Which movie brought you to limelight?
It was Adabi Part 1& 2 produced by Mide Funmi-Martins. It was later I started getting other jobs and so I had to dump schooling for some times before I went back for my HND programme. Other movies I have featured in include Abusi Edumare, Moyin Oluwa Nitemi, Jenifa 1, Odaran Ni and Ni Oruko Mi.
In recent, there are stories that you are entangled in a cold war with star actress, Fathia Balogun over affairs with a movie marketer, Alhaji Rasak Abdullahi who owns Corporate Pictures. What is the genesis of this issue?
I wouldn't know and I can't say because I am not close to Fathia and I have always seen her as an elder sister. Corporate Pictures boss and his other company United Pictures marketed the first movie I produced entitled ''Wunmi Omo Odo''. But my yet to be released movie Moyin Oluwa Nitemi will be marketed by Corporate Pictures. That I can say is responsible for all the stories about me and Fathia Balogun.
But then there was a time she was said that she called your mobile phone and insulted you and warned you to stay away from Corporate Pictures Boss?
I don't know where she got the story that I am dating Corporate Pictures Boss, Alhaji Rasak Abdullahi. She called me and I explained to her that I was not dating Corporate Pictures boss.
You mean you are not dating him?
No. I am not dating him.
But there are several actresses why is it you that she singled out and accused of dating Corporate Pictures Boss?
I can't explain why she singled me out and I don't know why she decided to call me. I think she was stunned that despite my being off the scene and not so popular I could get United Pictures owned by RasakAbdullahi to market my movie, ''Wunmi Omo Odo''.
Can you remember the first time you met Corporate Pictures boss?
I met him a long time ago before late Bimpe Adekola died. While she was alive I followed her to Idumota, Lagos to see him at his office. That was where I got to know him.
How far is it true that it took the intervention of elders in Odunfa Caucus to intervene before Fathia Balogun stopped threatening you?
Anyway I don't step down for anybody. I don't believe anyone can threaten me and she has not confronted me physically. Though I hear several stories but I am not convinced she was referring to me. It is afree world everyone has the freedom to do anything at his or her own particular time. I don't owe anybody explanation on who I am dating. If you believe me fine and if not it is just too bad. I am trying as much as possible to be professional and I am a lone ranger.
If you are not dating Corporate Picutures boss why would Fathia be attacking you?
I can be close to Corporate Pictures boss for any reason. Moreover the man is not her husband. He is not Saidi Balogun. Fathia is not his wife so she has no right to attack me over issues concerning him. She has no right to harass me moreover everyone is doing business with the man. He is marketing my movies and nothing else between us but I would not be cowed by anyone based on stories that I am dating the man. Fathia would not choose who would market my movies for me. It is absolutely my prerogative. Corporate Pictures has been there for a very long time even before she joined the industry. Corporate Pictures will continue to market my movies and nothing will take me away from the company.
Have you discussed the issue with Corporate Pictures Boss?
I don't need to discuss any thing with him. I don't owe him any explanation all I know is that he will continue to market my movies.
- TAIWO OBATUSIN EXCLUSIVE for www.nollywoodgists.com
Q&A: PEJU ASHAYE OR FATHIA BALOGUN CHOSE ONE FOR CORPORATE PICTURES BOSS