Gov. Gaidam Inspects N111.3 Billion Yobe International Cargo Airport Construction Work in Damaturu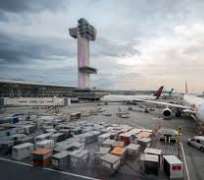 Governor Ibrahim Gaidam of Yobe state has visited the site of the Yobe International Cargo Airport, Damaturu yesterday to assess the ongoing construction work at the project site.
It will be recalled that the Construction work commenced on October 17th, 2017 following the signing of an N11.3 billion contract between the Yobe State Government and the contractors, JM & A'S Enterprises Ltd.
The Yobe State Commissioner of Works. Alhaji Lawan Shettima Ali, whose ministry was supervising the project, told the governor that a total of 18.39 percent of work has been completed so far.
This includes, he said, site clearance and scooping of unwanted materials for the airport's runway and access road as well as Cleared Graded Area (CGA) and the conduct of geophysical investigation and drilling of boreholes.
Gaidam who was visiting the site for the first time since the commencement of work, said the construction of the cargo airport was part of the campaign pledges he made to the people during the hustings.
"Some of you may recall that back in 2011 during the campaigns, we promised people in the state that we would build an airport in Damaturu as part of the effort to accelerate our economic development. We had wanted to start since then but the Boko Haram insurgency affected that possibility. Here we are now with contractors on site...
"I commend the contractors for the seriousness they have displayed so far. I urge that they deploy every equipment, machinery, and men necessary to complete this work within the time specified which is 15 months from the date of commencement", he said.
The governor added: "I am looking forward to having this airport undertake its first and maiden flight in January 2019.
"The Yobe International Cargo Airport is one of our legacy projects. It will be beneficial to the state for a long time. We have also completed a new College of Medical Sciences based inside of Yobe State University.
" W have built a brand new University teaching Hospital which has already commenced operations; and we have rebuilt, expanded and equipped our major hospitals across the state as well as some secondary schools.
"We will keep the pace, move our state forward and ensure that Yobe is a much better place by the time that our administration's tenure ends in May 2019", Gaidam said