Herdsmen killings: US-based group faults CAN youths on Osinbajo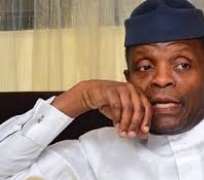 Members of the Forum of United Nigerians Against Divisive Elements, FUNADR has expressed disappointment in a publication titled, Christian youths accuse Osinbajo of betraying faith," published in the Guardian newspaper of Thursday, January 18, 2018.
In an instant reaction to the publication, made available to Willpower Communications,  the executive secretary of the group in the United States of America, Apostle Israel Majekodunmi, executive secretary of the body wondered how the Youth Wing of Christian Association of Nigeria (YOWICAN) would allege "that the Vice President, an ordained pastor and a patriot in every sense of the word, who has been an advocate of peace, unity and nationhood, has abandoned his constituency because he was not present in person during the mass burial of the 73 people killed by alleged Fulani herdsmen in Makurdi, Benue State."
While stating that the claim "that the VP has been silent while Christians are being murdered in swathes nationwide is untrue," Majekodunmi stated that the vice president has been meeting with groups and leaders of the affected community.
The United Nigerians Against Divisive Elements listed other activities undertaken by the vice president to include among others, the followings:
The Vice President, on the instruction of President Muhammadu Buhari initiated peace moves in Adamawa State in 2017 during the communal clashes between herdsmen and farmers.
He visited Adamawa State on December 5, 2017, in the wake of the communal clashes in the area, and a week later commenced a series of national consultations with all relevant groups designed to find a lasting solution to the farmers-herders conflict in parts of the country.
The Vice President has also been meeting with other interest groups and leaders of the affected communities.
In a recent speech, Osinbajo cautioned against the politicization of these tragedies stating very recently  in January 2018 that "our obligation is to stop them from playing  dangerous politics that could threaten our unity and stability, just as we continue to enforce the peace in troubled areas. As Bishop Benjamin Kwashi said it is the poor and helpless who suffer the most from crisis, and it is they that we have sworn to protect."
The Vice President, according to FUNADR is very concerned and beyond his office, is committed to ensure that the entrenchment of lasting peace in all communities across the country and the resolution of all legitimate grievances around the country.
"We should not create a religious crisis out of the lives of helpless Nigerians who cannot protect themselves from criminal elements who snuff out innocent souls.  This issue is not about Fulani herdsmen and farmers clashes alone, it is about the sanctity and regard for human lives. Nobody will benefit from this politicisation of event that takes way human lives," the body stated.