ASDEV 81 Club Tasks Government On Provision Of Furniture For Schools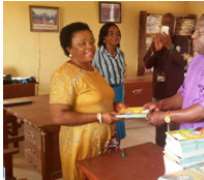 A social-cultural club, ASDEV'81 Club of Asaba, made up of professionals from Asaba, Delta State, has urged the state governor, Ifeanyi Okowa to as a matter of urgency provide furniture to schools especially writing desks to enable pupils and students learn and write comfortably.
This is coming on the backdrop of the fact that some pupils and students in schools within the state capital are still sitting on the floor to receive lessons which according to the club was unacceptable.
Speaking to newsmen Tuesday shortly after the club led by the Asaba chapter chairman, Ogbueshi Tony Akaraiwe, distributed notebooks seven primary schools in Asaba said, "it have been better for the state government to come and see for themselves. It is regretting that a school that is in the state capital, the children is sitting on the floor".
Ogbushi Akaraiwe who represented the National President of the Club, Ogbueshi Ochuba Ogbolu, however noted that the state government could not do everything, revealing that the Rotary Club in 2017 donated 100 chairs and desks to Ahor Primary School, "and I will carry this message to my club and let us see what we can do", he noted.
According to him, "we have spent over N400, 000 to print the exercise books", expressing happiness that the club embarked on the distribution of the books to the various schools, "I am happy because I saw the children vary happy while we were distributing the exercise books to them".
He disclosed that the club decided to distribute exercise books to pupils and students as some parents were unable to buy books for their wards/children, "some of them, their parents can't afford to buy them exercise books. As one of our projects that we should do that to the pupils and in fact, they are happy", revealing that about 16 schools are to benefit from the 5, 000 printed exercise books, "as at today we have distributed about 2, 500 exercise books to eight schools".
He called on other philanthropic individuals and organizations to toe their line.
At Ogbe-Olie Primary School I & II, the Head Teachers, Mrs Okonkwo S. O and Mrs Obote Justina O. respectively said it would encouraged the children to learn harder and prayed God to bless the leadership and members of the club.
An old student of Ogbe-Olie Primary School, former chairman of the club and Wing Commander in the navy, Ogbueshi Peter Iwezie (rtd), said he initiated the idea, "look no matter how small, the presence of our club must be felt from the grassroot and then I started with this school been my Almamata", noting that whatever he would become in life started from his foundation days in the school.
He hinted that the gesture was to propagate the club and the development of Asaba, which necessarily should not be left alone for the elite class, "it is for everybody", even as he tasked the state government not to play lip service with sports development, "it is from here I started doing sports. I tell the governor that grassroot sports are not by mouth, it is by action and you must have passed through it to appreciate it. I am a living legend in grassroot sports development".
At Oneh Primary School I & II the Head Teacher and Head Mistress, Mrs Akpoku Benedicta E. and Mrs Monye Rose O. noted with pleasure the gratitude of the children.
Another member of the Club who finished from Oneh Primary School, Venerable Augustus Asiekwu (rtd), said the school has improved from what it used to be but noted that he missed the citrus trees in the school compound, "government has done a good job. I will advise that whatever you find doing in school, take it serious because you may come back there either as a teachers or to come and say this is my Almamata but if you take things casually the way children are doing it now and you cannot make it life you will not be bold or confident to come back to your almamata and tell people I passed through here".
The teachers thanked the Club for the kind gesture just as they tasked the Pupils and students to make good use of the books given to them by ASDEV 81 Club.
At Ahabam and Ahor Primary Schools, the Head Mistresses, Okocha Stella N. and Comrade Mary Ojeah, who double as the Vice Chairman, Nigeria Union of Teachers (NUT), Oshimili South local government area, said, "this is what we want, the community should recognize the children once in a while and give them something to encourage the children because some of them their parents have no money".
Also, at Asagba Primary School, the Head Master, Mr Emmanuel Okakwu, said he was very happy with the development and prayed God that the children of members of ASDEV 81 Club Asaba, would go to school stress free even as he charged the children to be more dedicated, committed and study harder, "so that they can come out in flying colours".
ASDEV 81 Club of Asaba Wednesday also distributed exercise books to Umuaji, Umuonaje, Umuagu, Westend, Oshimili Primary School, Abu Ato Primary Schools I, II & III, Agbe-Afor Primary School, Zappa Primary School and Uzoigwe Primary School respectively.