Police Allegedly Tortures Kidnap Kingpin To Death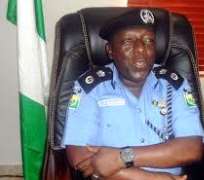 Nineteen days after the apprehension of a notorious kidnap kingpin, Anthony Ogbalor (Obolor, as written by the police) by men of the Nigerian Police Force (NPF), Delta State Command, the police has allegedly tortured him to death.
A source said the suspect was allegedly beaten every morning by the police in order to extract confessional statements from him after which he would be taken to the hospital for treatment.
Dracula among other gang members were paraded by the former Commissioner on 30th December 2017.
The Police Public Relations Officer (PPRO), DSP Andrew Aniamaka, who confirmed the death of the Kidnap suspect, however said that he died in a hospital and not in the Police custody.
DSP Aniamaka explained that the deceased whom he described as a "kidnapper", "murderer" and "killer" developed illness and was rushed to a hospital where he died.
"Dracula died in a hospital where he was rushed to. He was ill and was rushed to a medical facility where he died. It is the Police Hospital," he said.
The late Dracula who hailed from Iyede in Isoko North Local Government Area of Delta State was arrested late December, 2017 alongside other gang members over alleged offence of conspiracy, armed robbery and kidnapping.
He was arrested at about 7:30 pm in a snatched navy blue Toyota Corolla car with reg. no EPE 874 DQ, after being trailed driving along Enerhen road in Warri.
It would be recalled that the outgoing Commissioner of Police, Delta State, Mr Zanna Ibrahim, revealed that a feared kidnap syndicate terrorizing Isoko, Ughelli, Warri and their environs has been arrested.
The outgone Commissioner of Police said, the group was responsible for the various kidnap cases in the areas whose leader has been on the "watch list of this Command", noting that his arrest and confession has led to the apprehension of other suspects who equally have confessed to the crime.