Fans believe Kylie Jenner hinted at being sister Kim Kardashian's surrogate on Instagram months ago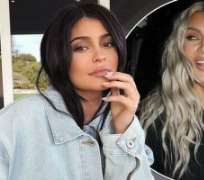 A wild conspiracy theory that  Kylie Jenner  was  a secret surrogate for sister Kim Kardashian  is gaining momentum after fans believe they've uncovered yet more proof that it's true.
Kylie has been a virtual recluse since rumours that she was pregnant first started in September and she has never confirmed or denied reports that the baby is her first with boyfriend Travis Scott.
Kim has also asked her sisters in the past to be her surrogate, after being advised by doctors to not go through a third pregnancy.
And after it was reported on Friday that Kylie was giving birth at Cedars-Sinai hospital in LA, Kim and Kanye announced the birth of their baby girl on Monday. But there's more. Fans believe Kylie was also hinting at being a surrogate in her past Instagram postsBack in November,  Kylie fuelled speculation she was pregnant with a baby girl by posting a string of pink themed photos. At the time, a fan tweeted: "Kylie Jenner is most definitely having a girl. She has been posting so much pink stuff."
One fan tweeted: "I totally think that Kylie is the surrogate to Kim's baby. Kim is having a baby girl…everything Kylie was hinting to was the color pink."
Another added: "Low key Kylie is the surrogate for Kim's baby girl that's why she would post things with pink on IG."
And one said: "So rumours say Kylie was in labour around the weekend, pink clues in baby shower pics, then Kim's surrogate has their baby yesterday!!? Seriously? Kylie is the surrogate. It's too coincidental."