I'm not quarrelling with Fathia Balogun over Corporate Pictures' boss - Peju Ashaye, actress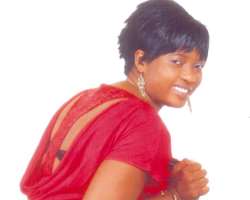 Peju Ashaye comes across just as the regular girl in town, in spite of her fairly long stay in the acting arena as an actress and lately as a movie producer. No make-up, no showy apparel. In fact, when she arrived for a chat with Saturday Punch at a public place in Lagos on Wednesday, she hid her face behind a pair of bogus glasses in order not to be noticed. "That is me. I do appreciate my fans, but most of the time, I love to be anonymous. I still want to go to the market and do my normal shopping. I want to be here now, just like everyone, to sit down, have a meal and chat with my pals," she said.
Ashaye, who joined the movie industry in 1995 as a secondary school student, lately made the headlines with reports indicating that a fellow actress, Fathia Balogun, was feuding with her over the boss of Corporate Pictures. According to the widely circulated story, Fathia felt that Ashaye's relationship with the boss of Corporate Pictures, Alhaji Rasaq Abdullahi, looked too real to be seen as mere business dealings. And because of this, a cold war was said to be brewing between the two actresses.
It will be recalled that Fathia's marriage to popular actor, Saheed Balogun, crashed on account of her closeness to the Corporate Pictures boss. Balogun had alleged that Abdullahi was having an affair with his wife despite the fact that they were friends. Thereafter, the marriage packed up.
But our correspondent met a brick wall in Ashaye on Wednesday concerning her alleged feud with Fathia over Abdullahi. She curtly said, "I don't have to say anything concerning that. As far as I am concerned, I have no problem with anybody. Contrary to whatever anyone says, my dealing with Corporate Picture is based strictly on business."
While Ashaye's interest in acting dates back to her secondary school days, she still endured to go through school at least to satisfy her father who initially did not see much sense in her daughter's desire to become an actress.
"I still went to school to satisfy my father. Even though I have always enjoyed the support of my family in whatever I want to do, my father was not convinced that all I wanted to do was acting instead of going to school. Right from when I was in secondary school, I came into the acting industry when I met people like Yinka Quadri of Odunfa Caucus and the likes of the late Ireti Adekola who became my mentor. In fact, people used to think that Ireti was my sister because of our closeness. Even while I was in school, I still maintained my contact with the movie industry. So, it was a matter of time for me to join fully as soon as I finished my HND in Public Administration at The Polytechnic, Ibadan," the soft spoken actress told us.
Ashaye said she remained indebted to her seniors in the industry, such as Yinka Quadri and the Odunfa Caucus and the late Ireti from whom she learned the ropes before she became a professional. She said that her training in the industry has kept her on to become a moderate personality in and outside the set. According to the movie producer, fame, which comes with the profession, has not beclouded her reasoning.
"That is one thing about me; I don't see myself as special or different from others. I don't allow fame to go to my head. You know something about our job, no matter how you try, your fans will single you out. And I must say that this has happened to me a lot of times, and I appreciate them. But left to me, I enjoy being anonymous anywhere I go. I want to shop, I want to do everything every other person does, but acting has robbed me of such luxury. I am not complaining though."
As a top actress and movie maker, Ashaye does not joke with church and her religion. Unlike the popular perception that some top players in the industry engage in all sorts of stuff to 'make it,' Ashaye dismissed such talks as balderdash. She said it would be very difficult for her to derail at this stage of her life; to jettison the Christian training instilled in her by her parents.
She said, "I don't know about others, but for Peju Ashaye, I belong to the Redeemed Church and I don't joke with my God. He is the only one that I know is capable of leading me aright."
She disagreed with the school of thought which perceives Christians who partake in acting as charlatans. "Are you saying that because I am a Christian I can not act? No, it doesn't go that way. What we do in acting is part of humanity, because we inform and educate in the process. I can act any role given to me by my director. The only thing I can not and will not do is act nude for all the millions in this world. I cannot do anything to taint the name of my family. I don't overdo things, and that is my nature."
Still single, Ashaye told Saturday Punch that people would soon be informed about her plans concerning marriage. But she has opted to choose for herself a fiancé outside the acting industry.
"My fiancé appreciates what I do. He loves it and does not feel uncomfortable with what I do. He is someone who supports me totally even though he is not within the industry. He trusts me and knows what I can do, and we are having a swell time. Very soon, you will hear from us concerning our wedding," she said.
Apart from acting, Ashaye is into sports as well. During the last Gateway Games in Ogun State, Ashaye competed in handball competitions and actually won a medal. According to the lanky actress, she has been in sports since her days in secondary school but she told Saturday Punch that her interest in sports does not go beyond enjoying herself and keeping fit.