Cult attacks made movie producers shift base from Enugu to Asaba - Chinyere Nwabueze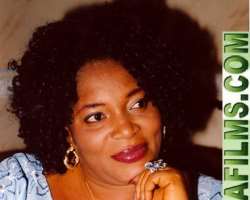 She has been in the background, allowing her works to speak for her. Publicity-shy Chinyere Nwabueze, who hails from Asaga-Ohafia, Abia State, tells NKARENYI UKONU about her life and job.
There was a lull in the movie industry but things are picking up now. What would you attribute this to?
I think there were some issues that needed to be resolved with the Census Board, but all that has been resolved. Now, the marketers are back to making movies in Asaba, where they have moved all productions to.
Why Asaba?
It is the proximity and the fact that it is cheaper to shoot movies there than in Enugu. Enugu has been overused in terms of location and the people in Enugu were becoming aggressive over locations. The cult boys there were also always attacking us. The people in Asaba are much more receptive and then the hotels are considerate to us. They give us half the normal room rates, different from what they ask others to pay. The town is calm, no traffic, there is security and we get lots of encouragements from the state government.
Encouragement in what sense?
This is as it concerns locations. We don't have problems with locations, you can enter anywhere. If we need government facilities and the like, they give it to us willingly. The financiers who are Onitsha marketers find it closer, shuttling between Onitsha and Asaba. Right now all the A-list actors are in Asaba shooting movies there. This is not to say there are no disadvantages for shifting base. You find the producers sharing artistes and compelling the artistes to be shuttling between two or more locations, which may end up affecting the overall output of artistes. This is to the detriment of all concerned, that is the bone of contention now.
Don't you think it is the artiste that is to be blamed for this?
The producers will contract the artiste for a job and tell such a person when they intend to start shooting so it doesn't clash with the artiste's lined up programmes. When it is now time to start shooting, the producers are almost never ready, their logistics won't be in place, making the artiste to start to make impromptu plans that will end up clashing with other scheduled programmes. When such incidences occurs, the marketers become head strong and refuse to soft pedal for each other, all of them wanting to make use of a particular artiste at the same time. But now they are trying to address the issue.
In the music industry they have decided to fight piracy head-on by selling the original of their music CDs at a high price. Tu-Face has just released his latest effort, which will sell for N1,000. What is being done in that regard in the movie industry?
Piracy isn't the major problem in the movie industry, distribution is the major problem. If movies are distributed well, there won't be room for privacy. There are still lapses, the marketers are not doing enough and when they fail to properly distribute so it can get to the interiors of Sokoto, Kano or Maiduguri, piracy would thrive. Of course these traders will get hold of the movies and mass-dub it easily, which would now be sold for peanuts, which is a big laugh Also, abroad, they premiere movies and put into CDs as a last resort after the producers must have recouped their investment, but here we do buying and selling. We just act, produce and sell but lately, professionals who know how movie business should be done are coming into the industry. We also now have foreign rights, which means that before a producer releases any movie into the Nigerian market, the movie would first be released abroad, where you sell your master tape to your contacts in these foreign countries for them to release abroad, where our movies are being rushed like hot cake. After three months, the contacts will be given the go ahead to release the movie in Nigeria. This has what has kept the movie industry from collapsing like a pack of cards. But with time, we will perfect our acts.
How long have you been an actress?
Eight years. Professionally, I started in 2001 in Port Harcourt doing part time acting, as I was involved in other things. I had to move down to Lagos - the entertainment capital so to say - to start fully in 2002.
Why do you choose to become an actress?
I studied Theatre Arts at the University of Port Harcourt, so I am not a gate crasher.
What were you doing before becoming an actress?
Immediately after school, I was a banker. When the banking industry first collapsed, I went into the teaching profession before following my passion.
Which movie brought you to limelight?
The movie that really gave me an identity was the Stolen Bible. I played a reverend mother and many people said my role was outstanding. Then of course the television programme that I am doing, Spider, which is a series; that has really propped me up professionally.
How did you clinch the Spider role?
I went for the audition, which spanned a year because they were looking for a particular character and when I showed up, I fitted into what they wanted.
What determines the script you work with?
I am particular about tight stories and not wishy-washy stories. Even if the story isn't tight enough, I always want to give room to the director for improvement through a script conference. But if the director isn't ready to listen, I don't do such jobs. I am also wary of movies where I will be the only known face. I regard such jobs as substandard jobs.
You are also a producer. What prompted that?
I tried my hands on producing a movie I titled Second Adam in 2006. I was just trying my versatility in entertainment as it concerns movies. I am currently working on a project that will be a television soap opera; it will be a series. It is in the pipeline and before the end of this year, I will hit location.
Did you acquire knowledge for producing?
I learnt it on the job. I had been a core production person even before I got to this stage in my acting career. I have been a location scout, doing crew job. I did script writing in school, I can write a screen play but for my project I don't have time to write the screen play, I would rather develop a synopsis and give it to a professional script writer to write the screen play.
What has been guiding you in the profession?
I have always been focused, I am a patient person, I have persevered and I believe that when there is life, there is hope. As long as I have a vision and I remain steadfast, with prayers, the sky is usually my limit.
Who are your role models in the industry?
Ngozi Ezeonu is my only role model in the industry; she has always been even before I got into the movie industry. I have always looked up to her, her carriage etc. She is evergreen.
There are speculations about your marital status...
I am about to get married.
Who is the lucky guy and how did you meet him?
A wonderful young man from Edo State who lives in America; he saw me acting and fell in love with me.
Any regrets in life?
I wished I had started a family before now but I can only say that it is better late than never.