Michelle Obama's sizzling beach look has Trump fans fuming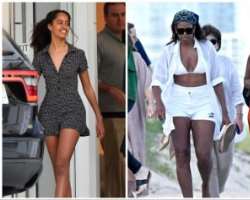 Since leaving The White House, the Obamas have been free to live their best lives — but that hasn't stopped critics from nitpicking their every move.
Over the weekend, Michelle Obama and her daughter Malia were spotted in Miami Beach, catching some sun with friends. The former first lady, 53, looked effortlessly stylish in a white bikini. She wore matching high-waisted shorts as she trudged through the sand, clutching her shoes in one hand.
However, some  social media spectators  were critical of her beach get up, saying it was in "poor taste" for someone of her political status.
"Totally inappropriate for her age and who she is," wrote one commenter. "Her daughter looks embarrassed. Rightly so!"
Image via Splash
"Why holes on the white cut offs? Looks a little trailer trash. Melania looks so much more elegant, yet all she seems to get is criticism," claimed another.
"The ripped white shorts! Hard to believe she was ever a first lady," wrote another user. "Getting too much inspiration from Beyonce, I think."
"Two things…I'm shocked that people are up in arms because of the hue of her attire and she couldn't even be bothered to button her shorts," observed another.
"The whole family has no class," another user wrote. "Thank God they no longer represent us!"
Image via Splash
ALSO SEE:  Connie Britton defends her $475 Golden Globes 'Poverty Is Sexist' sweater
Other onlookers were quick to defend Obama's beach style.
"Former first lady on holiday. So what?" wrote one user. "She was in the public eye for long enough. Now leave her alone."
"Not a fan but always liked her style. She does look great. So do her kids," wrote another. "Family should be left out of politics."
"I don't think Michelle needs our approval," added one user. "She is a self confident, elegant woman."
Other commenters took jabs at the current administration.
"To the commenters here that are along the lines of 'And she is still headline news….why?' I'll tell you," wrote one user. "People are pining for the days when they had a beautiful, intelligent, eloquent first family who had some decency."
Image via Getty
Meanwhile, Malia Obama was seen wearing a tan cropped hoddie over her black swimsuit. She was captured carrying a book, presumably in preparation for another semester at Harvard University this winter.