Ebonyi government confirms 2 deaths from Lassa fever outbreak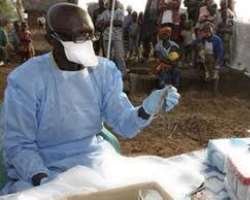 Ebonyi Government on Monday confirmed the death of two persons from a renewed Lassa fever outbreak in the state.
The Commissioner for Health, Dr Daniel Onwuzurike, who made the disclosure at an interaction with newsmen, noted that the deceased included a doctor and a nurse working at the Federal Teaching Hospital Abakaliki (FETHA).
Onwuzurike said that 12 samples had been collected and tested for possible detection with four testing positive to the dreaded disease.
"Apart from the two confirmed deaths, we have not confirmed whether another doctor who worked in the hospital died of the disease as he was known to be diabetic.
"He was being managed for blood-sugar derangement and has been on self-medication for malaria and typhoid fever before his death.
"We will still confirm whether he died of Lassa fever and have also commenced the tracing of possible contacts of another suspected victim, a FETHA staff but a resident doctor at Afikpo," he said.
The commissioner said the contact-tracing for all suspected cases would end on Tuesday, while the victims would be placed on the stipulated 21-day surveillance required for full confirmation.
"It is, however, pertinent to note that the disease's index case (suspected source) survived after being treated by doctors and has been discharged.
"We urge indigenes of the state not to panic because the outbreak is an isolated one and not an epidemic as erroneously being speculated.
"The state government has intervened tremendously by providing needed resources and logistics such as drugs needed for its treatment.
"We have also contacted the federal ministry of health on the issue and it has pledged to immediately send needed commodities and manpower to complement our efforts," he said.
He debunked the insinuation that the samples and suspected patients have been referred to the General Hospital, Irrua in Edo as the South-East Virology Centre Abakaliki, constructed by the state government was functional.
"We no longer experience panic or pandemonium in hospitals and in the state whenever such cases are reported because our virology centre effectively handles all reported cases.
"There was also no panic among doctors, nurses and patients at FETHA on Sunday as we only fumigated its premises and evacuated patients, especially those at the accident and emergency section," he said.
Umezurike said that the ministry was in collaboration with the FETHA management and relevant health stakeholders in the state, assuring the people that the situation was under control.
"We will sustain our enlightenment campaigns over the media and relevant avenues on the need for people to maintain adequate hygiene and immediately report suspected cases to relevant authorities," he said.
A News Agency of Nigeria (NAN) correspondent who visited FETHA reports that normalcy has returned to the hospital with staff and most patients wearing protective materials on their hands and over their mouths and noses.
The Chief Medical Director (CMD) of the hospital, Dr Emeka Onwe, was not available for comments but one of his aides said that only the commissioner for health was authorised to speak on the issue. (NAN)