2011: Nigeria Is Greater Than Any Individual –Mark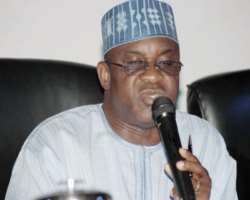 PHOTO: SENATE PRESIDENT, SENATOR DAVID MARK.
ABUJA, June 06, (THEWILL) - Ahead of the 2011 general elections, the president of the senate, Senator David Mark has counseled Nigerians especially the political class to be mindful of the unity and continued corporate existence of the nation "because no individual or group interest should override that of the country."
In a statement signed by his Chief Press Secretary, Paul Mumeh, Mark specifically cautioned against unguarded actions and utterances capable of provoking sentiments and undermining the indivisibility of Nigeria, saying "we must respect each others' view and position without rancour."
Speaking at a reception held in his honour by the government and people of Niger State after he was conferred with Doctor of Technology (Honoris Causa) by the Federal University of Technology, Minna, Mark said leaders at all levels must demonstrate absolute patriotism and love for our nation at this time.
Senator Mark also told elders to rise to the occasion and show the path on which Nigerians must follow in the interest of all so that no section of our country would feel marginalized or ignored in the scheme things.
According to Mark, "Whatever we do, we must conduct ourselves in a manner that is dignifying, we must demonstrate patriotism and love for our fellow men and women. Nigeria is greater than any individual or group interest.
"At any point in time, I try to make my position clear and unambiguous, based on truth. No body should be in doubt about where I stand on issues, it must be based on fact and truth at all time."
Mark recalled his days as military Governor of Niger State between 1984 - 1986 and expressed appreciation to the people of the state for the support and co-operation extended to him during his tenure.
He noted with nostalgia how he compelled parents and guardians to allow their female children to go to school, stressing, "I believe education propels developments and remains the best legacy any nation can bequeath to their forebears.
"I recall how I forced girls to go to school. Today, Niger State has the highest number of educated girls in the federation. We must place very high premium on the education of our young boys and girls, especially technology education, in order to make meaningful progress in the development of critical sectors of our infrastructure."
The senate president also commissioned a multi-purpose hall named after him by the Idoma indigenes residents in the state.
Earlier, host Governor Babangida Aliyu thanked the Senate President for laying a solid infrastructure and education foundation for the overall development of the state.