NUPENG, PENGASSAN Pledge Support for Oniwon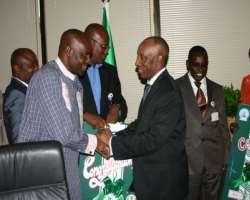 PHOTO: GMD NNPC, ENGR. AUSTEN ONIWON (R) AND NUPENG NATIONAL PRESIDENT, COMRADE IGWE ACHESE SHAKE HANDS DURING THEIR VISIT TO ONIWON WEEKEND.

ABUJA, June 06, (THEWILL) - The National Union of Petroleum and Natural Gas Workers, NUPENG, and the Petroleum and Natural Gas Senior Staff Association of Nigeria, PENGASSAN, have promised maximum support to the new Group Managing Director of the Nigerian National Petroleum Corporation, NNPC, Engr. Austen Oniwon.
The unions gave this pledge when a delegation of their leaders led by the National President of NUPENG, Comrade Igwe Achese, paid a courtesy call on the NNPC boss.
Achese who spoke on behalf of his PENGASSAN counterpart, who was unavoidably absent, said the unions were very happy with his appointment, adding: "We assure you of our support."
The union leader said though the task of repositioning the Corporation was daunting, he was confident that Oniwon was equal to the task considering his track record as an achiever right from his days in the refineries.
"We are particularly happy that somebody like you who have been advocating for the revival of the refineries have been appointed as GMD of NNPC. I know that the refineries will work, this is because I know you have been there and you understand all the issues involved," Achese stated.
He called on the GMD to pay particular attention to the revamping of the Corporation's depots and the Pipeline and Petroleum Marketing Company, PPMC, (a subsidiary of the NNPC), the repositioning of the Nigerian Petroleum Development Company, NPDC, and the establishment of an NNPC Pension Fund Management Company to secure the future of the workers and pensioners.
Speaking earlier while welcoming the union leaders, Oniwon said his immediate priority was to reposition and grow the NPDC and get the refineries running at optimum capacity as the future of the Corporation depended on them.
While responding to the petition of the unions, Oniwon said: "I listened very attentively while you were speaking. I do not want to do injustice to the issues you have raised. I will take out time to reflect on them, take counsel with my colleagues and get back to you. You will not hear from me verbally or in writing, you will hear from me in action."