Fayose employs local hunters against Herdsman invasion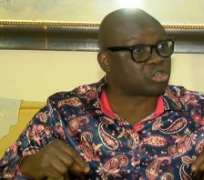 Ekiti State Governor Ayo Fayose on Wednesday rallied local hunters against possible invasion by suspected Fulani herdsmen. He sounded the battle cry while hosting the hunters at the Government House pavilion.
Fayose alleged that intelligence report available to him revealed that "Bororo" herdsmen have surreptitiously entered the state.
Fayose who wore a camouflage shirt, a pair of trousers and a fez cap to match "to reflect the mood of the nation" urged the hunters to go back home and defend the people. Apart from the local hunters, others who showed up at the forum are the Agbekoyas, vigilance groups, the Tivs, Idomas and Igedes from Benue State who are resident in Ekiti.
The event was heralded by intermittent firing of gun shots, whistling and songs by the hunters. Fayose who sympathized with the people of Benue State where scores have been killed by suspected herdsmen, vowed that he would not allow his people to be slain as done in the Northcentral State.
The Ekiti governor claimed that the alleged plan to invade Ekiti was to make the state ungovernable ahead of the July 14 governorship election. Fayose said the situation in Benue and Taraba States has shown that "President Buhari lacks the capacity to protect Nigerians."
He said: "I have received letters that the Bororos have entered our reserves, they want to violate our laws. I want to call on the attention of the Federal Government that they have come and wanted to kill men, women and kids in Ekiti.
"We will not allow that to happen here in Ekiti; I want you all our hunters to go back today to protect your people. Be vigilant, open your eyes and make sure that everybody entering the state is screened.
"No one in the guise of grazing should enter our land after 8.00 pm. Four our brothers who harbour criminals, tell them Ekiti is a no-go area. If your plan is to make this state ungovernable, you are wasting your time.
"I have called thois meeting for everyone to be vigilant; I will begin to support you now to secure Ekiti. Don't let them take you by surprise, don't allow them to take Ekiti by storm.
"Go to the farms and keep vigil; don't just entertain visitors that come in the night, screen them. We don't want visitors in our reserves at 8.00 pm."
Fayose added: "This (camouflage) dressing is done to charge our hunters to secure the state. I saw pictures of the killings (in Benue) and I wonder if those were human beings.
"I asked the question if people could be that picked to kill human beings that way; they will find no peace. It is no tribal killings but
that of mindless people.
"The blood of the departed will find those people and they won't know peace. It is the duty of the Federal Government to protect its people. We are not protected.
"We have never had it so bad; people must come to leadership with conscience. The Federal Government should have sent the Army and not
the Police.
"Governor (Samuel) Ortom should fasten his belt and protect his people. Those seeking for help in Abuja would not find because Abuja also needs help. I sympathise with you (Benue) people and nobody will kill you. You are all safe here."
Fayose also gave out telephone hot lines through which people who noticed strange movements can call for urgent attention.
-(Emma Ikechukwu)