73 Victims of Benue Herdsmen Attacks To Be Buried Today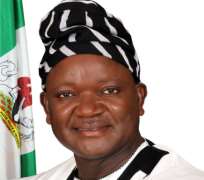 Seventy-three persons died in the recent Fulani herdsmen attacks on farmers in Benue State, according to Governor Samuel Ortom.
Those that lost their lives would be given a state burial and buried in a mass grave today at a site at the Industrial Layout, along Naka Road, Makurdi.
Ortom described those that lost their lives during the attacks as "martyrs."
Ortom said the attacks were very painful and insisted that there was no going back on the anti-open grazing law.
The governor explained that the seventy-three persons, who he described as heroes, had paid the "supreme price" to keep Benue by sacrificing their lives for the state.
He warned that when people who violated the law were allowed to go scot-free, it was an invitation to lawlessness.
He prayed that that kind of situation might not arise again in the state and appealed for orderliness during the burial programme scheduled to hold today.