Who Wants Madumere Dead?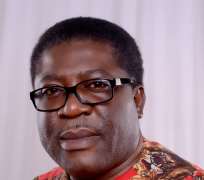 Recently, I stumbled on a story on the new media titled; "Has Madumere Wronged Anyone?" Going though that write-up, I realized that apart from the traditional media exchanges but according to the writer, it was alleged that one of his aides had a gun attack. He only survived by divine providence as his back window was shattered.
Madumere I know is an epitome of humility who has conducted himself in such a manner that has endeared him to all and sundry. Everyone knows that Madumere does not see himself as a Deputy Governor where his boss, Governor Okorocha is. For someone to begin to plot evil against him and the people dear to him is strange.
If there is anyone in Governor Okorocha's administration who has distinguished himself in service delivery and giving Governor Okorocha the needed support to succeed, it is Madumere. Governor Okorocha himself has said it severally in many public fora, describing him as beloved son in whom he is well pleased and also as one whose wish has always been to see him succeed.
The Deputy Governor of Imo State is most humiliated, most censored and he still puts his head down. The aspect of hiring under aged with high delinquent behaviours to keep abusing and insulting him on the new media aside, but this aspect of threat to life to the people Madumere cherish is certainly one aspect no right thinking person should support. Like the writer said, it is strange in the State. Who knows, Madumere may just be the next target?
People are already asking questions, which the answers are not coming. However, the issue may not be unconnected with Madumere's purported ambition to be Governor of Imo State against the wish of his longtime friend and Principal, Owelle Rochas Okorocha.
It is said that Governor Okorocha is insisting on having either of his in-laws as successor.
It was purported that he had given his son in-law and the Chief of Staff, Chief Uche Nwosu, unrestricted access to funds to set up structures for over one year now while the Governor on the eve of 2017 had asked his Deputy not to bother about setting up structures, a move that put most people into confusion. It must be observed that over two billion has gone into hiring political hawks who make misguided statements at will while every youth that claps goes home with N200, 000 to N1 million. People are wondering where these funds are coming from when an average Imolite is croaking and groaning to find, if possible, two square meals per day. With the political development in the State, it appears Governor Okorocha ab-initio had planned to either install his son-in-law or his brother-in-law who is married to his younger sister, Ogechi, the Commissioner for Happiness and Purpose fulfillment, Mr. Chuks Ololo should his intention over his daughter's husband fail.
However, the people of Owerri zone have been calling on the Governor to respect chatter of equity for which they claim Owerri zone is yet to superintend the affairs of the State since the return to civil rule in 1999. They however insist on Owerri Zone Governor come 2019.
Contrary to Owerri zone quest, Governor Okorocha in most of his public outings has waved such quest with a wave of hand. He did not stop at that. He said he will support his in-laws and any member of his family interested in any political office since they are not barred by the constitution of the federal Government of Nigeria. This was deduced from his interview on Channels TV.
Again, while addressing the people of Ezinihitte Mbaise during a grand reception for the State Chairman of All Progressives Congress, he said it pointedly that Owerri zone Governorship campaigners should forget it.
From what is happening in APC Imo State, Party chieftains are at cross road over what to do next because of the developing dangerous political trend in the State over Governor's preference for family member to succeed him even when he knows it is against people's wish.
To realize his motif, Governor Okorocha is said to have put everything in motion, including purported subterranean tactics the army, air force and the navy by offering them lands said to have been forcefully grabbed from the local communities and handing some of the physical structures of few hospitals to the agencies for use. However, some though some of this plans may have hit the bricks wall with the resistance of the Nigerian Army from being drawn into his inglorious demolition of Ekeukwu Owerri, which have been left desolate.
In all these, report has it that Madumere has remained the preferred choice to fly the flag of All Progressives Congress due to his experience and background as a well as a groomed Administrator.
He was the man behind the structure with which Governor Okorocha emerged the Governor of the State. The party feels that Madumere justly deserves their support having diligently supported Governor Okorocha to succeed. Another factor that is favourable to Madumere is that he is from the zone that is agitating that it is duly their turn to produce the Governor, which is being pursued with raging bile. Okorocha's Deputy has also remained innocent of corrupt practices and therefore has become a threat to the political aspirations of some political gladiators.
These reasons can only be the deducible factors to explain the alleged attacks on the Deputy Governor, both in the new media and now an unexplainable gun attack at one of his principal aides. The question that is on most people's lips is whether Madumere is not qualified to be Governor of Imo State. If Governor Okorocha has at various fora appreciated his stewardship and incorruptibility, then what could be amiss around the number two citizen that could warrant unnecessary attacks on him and his aides? Truly, I will advise that Governor Okorocha puts his house in order and also put over-zealous political gangsters within and around his political family in check. It will be herculean convincing anyone to believe that the culprit is not from his followers should anything happen to Madumere or anyone around him.
Onyeukwu Ndudi writes from Owerri