Borno Says verification exercise Delays Payment of CONMESS to Resident Doctors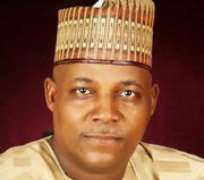 The Borno state Commissioner of Health, Dr. Haruna Mshelia has said that the state government was ever ready to pay any outstanding allowance of resident medical doctors but the on going verification exercise delayed the state government to effect the payment last year.
Speaking to newsmen at a press conference in Maiduguri Monday in a swift reaction to the 21 day Ultimatum issued by the Borno state resent doctors association Monday, the Commissioner said the doctors have never been denied salary or allowance in the past due to the significance of their job but the State Governor, Alhaji Kashim Shettima has held meeting with the executive members of the association.
He appealed to them to exercise patient and restraint until the on going verification exercise of civil servants was over to enable the state government commerce the implementation of the revised CONMESS, SKIPPING and RELATIVITY allowances that was recently reviewed by the federal government which implementation in other states of the federation started last year September.
Dr. Mshelia called on the doctors to exercise some restraints and bear with the state government for now while assuring that their outstanding arrears will be settled accordingly immediately the verification exercise was over as pledged by the governor.
The commissioner commended the resident doctors for their sacrifices and efforts during insurgency without embarking on industrial strike despite the fact that the Borno state resident doctors receive lesser salary and allowances compare to those of the UMTH and other states hospital.
He thanked the doctors for their support and understanding and urged them to give government some time as all arrears will be settled soon after the verification.
Dr. Mshelia also denied that over N300 million worth of allowances was being owed the resident doctors by the state government while commending the governor for his foresight and determination to upgrade and standardize government hospitals and facilities as well purchased over N4.3 billion sophist acted medical equipments for the hospitals such as auto sound scanners and x-ray machines among others.