Nigeria's DSS 'arrests Cameroon separatist leader'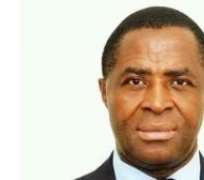 The leader of Cameroon's separatist movement has been arrested by Nigeria's intelligence agency, a government source has told the BBC.
Sisiku Ayuk Tabe was arrested on Friday in Abuja for engaging in a clandestine meeting against Cameroonian authorities, the source said.
Officially, the Department for State Service has denied making the arrest.
His movement of English-speaking campaigners wants to separate from the French-speaking majority.
Mr Tabe was taken from an unnamed hotel around 19:00 by a group of at least 15 armed men in military gear, an eyewitness told the BBC.
His group, the Governing Council of Ambazonia, released a statement demanding the release of their leader who had been based in Nigeria.
Nigerian human rights lawyer  Femi Falana also asked President Muhammadu Buhari to order their release  and warned that their arrest is illegal, according to Nigerian newspaper the Daily Post.
"Their unquestionable and inalienable right to self-determination is protected by Article 20 of the African Charter on Human and Peoples Rights which has been ratified by both Nigeria and Cameroon," he is quoted as saying.
Cameroon's English-speakers say they have been marginalised for decades by the central government and the French-speaking majority.
In October 2017, the English-speaking group declared autonomy over the two English-speaking regions – a move rejected by Cameroon's President Paul Biya.
Clashes between the government and supporters of the separatist group followed.
Dozens of people have been killed, including police officers.
The leaders of the separatists fled to neighbouring countries, including Nigeria, since the government clamped down on their campaigns.
Over 40,000 people from the English-speaking region have fled to Nigeria since October,  according to the United Nations refugee agency  .
Why does Cameroon have both English- and French-speakers?
On 1 January 1960, the French colony of Cameroun gained independence and became Cameroon.
On 1 October 1960, Nigeria gained independence from the UK.
The UK also controlled the former German colony of Cameroon. At independence, its citizens were given a choice of joining either Nigeria or Cameroon.
Southern Cameroonians opted to unite with Cameroon, while Northern Cameroon joined Nigeria.