Arewa youths to Buhari: Your re-election bid inhuman, insulting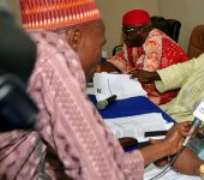 Northern youths have slammed President Muhammadu Buhari for his insensitivity to the mood in the land and the plight of suffering Nigerians by indicating his re-election bid for the 2019 Presidency at such inauspicious moment.
According to the youths,  second term bid declaration amidst wanton killings in several states across Nigeria,  fuel scarcity, rising cost of living and wanton destruction of lives and property showed that the president did not care about the feelings of Nigerians.
The youths under the aegis of Arewa Youth Forum said they were alarmed that the reckless mass murder of innocent Nigerians in Benue, Rivers, Kaduna and Kwara took place at a time the president gleefully extended the tenure of all the nation's service chiefs on account of 'excellent performance'.
According to a report in an online platform, the Communications week, the group made their position known in a strongly worded mail signed by Alhaji Gambo Ibrahim Gujungu, national president of the Arewa Youth Forum.
The youths lamented that none of the killers had been and prosecuted to serve as a deterrent to others.
The AYF said, "We are also worried that Nigerians had to go through the yuletide with agony and pains because of the fuel scarcity which still persist into the new year with the Federal government not having a definite roadmap to ending the malaise.
"This scenario was also compounded by the prevailing hardship Nigerians have been going through because of the actions and inactions of politicians and the elite who we believed have not done enough to assuage the plight of the ordinary Nigerians.
"If you add these challenges to the corruption allegations that had plagued some top ranking officers of this administration and the inability or refusal of Mr. President to address same leaves a sour taste in the mouth of many Nigerians.
"Consequently, we are appalled to hear that in the midst of all these the president and his men have already put in place measures to kick start his re – election bid for 2019.
"As the apex body of youths in the 19 Northern states and Abuja with affiliates across the country, we see the re election bid of Mr. President at this point in time inhuman, uncalled for and an insult to the sensibilities of the suffering Nigerian masses.
"On the magnitude of the killings, we expect the president to visit some of the states and when he came to Kaduna, he should have condoled with the people or even visited the affected area.
"It is disheartening that when the President visited Kaduna State, black marketers were having a field day as many of the stations where closed and the people where buying fuel at over 350/litre. This we believe is not good enough.
"Nigerians expect a more purposeful leadership from the champion of change than this anarchy in the land and the time to act is now, Mr. President," the youths warned.