Benue killings, an invitation for civil war: State APC Chairman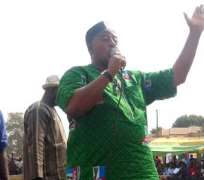 The Benue State Chairman of the ruling All Progressives Congress (APC), Comrade Abba Yaro, has described the massive killing of over 50 Benue people by the Fulani herdsmen as an invitation for civil War.
In a statement issued in Abuja on Wednesday, Yaro decried the recent killings as an attempt to spark second civil war in Nigeria, insisting that, it is clear case of ethnic cleansing around the Benue Valley which must be stopped immediately.
While calling on President Muhammadu Buhari to immediately call the Fulani to order and as well direct security agents to fish out the killers, he also called on all Benue sons and daughters, irrespective of party affiliation to rise in defence of Benue Community.
"This is above party politics, it is human lives, how can you kill a pregnant woman and removed the unborn child yet slaughtered it? It is barbaric, unspeakable and generally unpalatable," he said.
Yaro said the Anti-Open Grazing Law in Benue is not targeted at any section of the people but for the general security of Benue State, a measure against cattle rustling and a solution to herders/farmers clash.
His words: "The implementation is ongoing and we are in support of our governor, we are not deterred, the Anti-Open Grazing Law has come to stay.
"Nigerians should not see the killings as a Benue problem but National crisis, the absence of peace in Benue is an absence of peace in Nigeria.
"We must treat it as a national ethnic cleansing by the Fulanis and collectively pressurise Mr President to put an end to it. If Boko Haram can be defeated, IPOB stopped, Fulani killings can be stopped."
The Benue APC Chairman called on the Chief of Army Staff, Lt.-Gen. Yusuf Buratai, Interior Minister, Lt.-Gen. Abdulrahman Danbazau (rtd.), Director General of the Department of State Services (DSS), Lawal Daura, and Inspector General of Police Ibrahim Idris to protect Benue community or "we rise in self defence, which will amount to the second civil war."
Yaro emphasised that "if the Fulanis are not called to order by the relevant authorities to stop the ethnic cleansing, like the lawless Fulanis are doing, Benue people shall take laws into their hands in self defence."