I'm on home-run with dignity -Aregbesola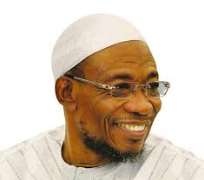 The Governor of Osun State, Mr Rauf Aregbesola today said he is now on the home-run with fulfilment and promised to produce a worthy successor for the state.
The governor aggregated his two-term administration in the past seven years as a reign of unbroken people-centred government in the history of the state.
In his New Year address to the people of the state Aregbesola said his administration in the last seven years strived to bring people-centred progressive governance to the state.
He said the evidence of this progressive trend in governance are visible in his policies and programmes such as youth empowerment, care for vulnerable senior citizens and women empowerment, agriculture development, industrialisation, infrastructure development, education, job creation, human development, water resources development, urban renewal and so on.
According to him, these programmes have subsequently transformed Osun and projected it positively beyond what was on ground prior to his regime.
He attributed the success his administration has record so far to the support his government received from all stakeholders involved in governance. He posited that the administration has served maximally.
He held that Osun has now become the reference point in prudent management of resources and responsible governance.
He stated that last Thursday, the budget he presented was the consolidation of all the efforts of his government and it would represent the crowning glory of its achievements, adding that the budget would be fully implement to the last kobo.
He averred that to achieve total implementation of the budget, "There must be a clear departure from the past of dependency on allocation from the federation account. It is imperative that we generate our own revenue.
"This requires that we all work hard. The collective wealth of the state is the aggregate of what everyone contributes and we can only be economically and financially safe when everyone produces more than he or she consumes.
"All of us should pay our taxes, rates, levies, fees, fines and other financial obligations to the state. From our population, if one million of us productively engaged can contribute N250 for 20 days in a month, we will be able to raise N5 billion. This will enable us comfortably pay our workers and pensioners full salaries, run the government, provide infrastructure and carry out social protection services for all the people.
"All the things we desire like good roads, functional education, recreational facilities, security of life and property and a conducive environment for the pursuit of happiness and so on can best be provided by the government. No individual or private organisation can provide them to the satisfaction of all the people.
"This is why we all need to support the government by fulfilling our financial obligations to it in order for it to be able to carry out all its projects satisfactorily too.
"Yes, there could be irresponsible government who would rather serve themselves than serve the people but we must still support the state as the symbol of our collective aspiration. To prevent irresponsible administration, we need productivity, vigilance and patriotism.
"What we are going through now is the consequence of the bad choices we made in the past and except we change course by doing the right thing, by being productive and financially support the government and above all, vigilantly monitor its activities, there is no magic wand anywhere and the situation might get worse.
"We therefore count on you to get the maximum support from you till the very end, for us to be able to give you our maximum best."
The Governor disclosed that his administration would bequeath a befitting successor, who is capable of continuing where his own government will end by November this year.
Aregbesola however, sounded a note of warning to the people of the state as the state entered the election year that some political desperado, who were hell bent on precipitating crisis and mayhem will want to aid some misguided individuals to cause chaos and disaffection among the people.
He continued: "We support the democratic expression of grievances through peaceful protests and other legitimate means.
"Nevertheless, all form of social agitation, be it economic, political or social, must not be done to the detriment of others. We have the mandate and strong intention to protect the right of others to life, liberty, pursuit of happiness and go about their lawful duties without molestation, let or hindrance.
"This is the last New Year message our administration will pass to you as our tenure will end on November 26. Therefore, I will like to say from the bottom of my heart that it has been a great privilege to serve the good people of Osun. I cherish your love, fierce patriotism, courage and forthrightness. You are a great people.
"This is an election year in which our tenure will end and a successor must emerge. It is my solemn promise that we will not leave in a vacuum.
"In consultation with our leaders and the member of our great party, we will careful select and present to you a successor that belongs to our political tradition of progressive people oriented leadership, a person of integrity, who shares our aspirations and will take governance to the next level from where we stopped.
"I want you therefore to conduct yourselves with the same dignity and courage of Omoluabi – a people whose conscience and soul cannot be bought, that cannot be intimidated with guns and dogs and who stand firm behind the progressive rock of political leadership.
I must commend and thank you all most sincerely from my heart for your kind support, for the sacrifice, understanding and the willingness to do and support what is right, and not what is convenient, in the past seven years.
The governor then thanked all those who made him to succeed in administering the state in the past seven years. "I must in particular thank all the workers in the state who have laboured with us for the successful implementation of our programmes and are therefore part and parcel of our success story, especially those who have had to endure 75 per cent and 50 per cent salary regime since July 2015.
"I thank most immensely the women and their groups, market women and men, traders, artisans, workers, retirees, students, transporters, commercial motorcyclists, employers of labour, organised private sector, the business community, financial institutions, non-governmental organisations, community based organisations, youth organisations, security agencies, the media, political parties, opposition members, traditional rulers, community leaders and religious organisations and their leaders."